Experience the Comfort of Using Advanced Formulas
Excel spreadsheet data overlaid on a department map of Cameroon can bring your data analysis into the next level. How? By using the new calculated column formulas. But first, let's take a quick look at Cameroon. Cameroon is a Central African country which is divided into 10 semi-autonomous regions. These regions are further divided into 58 divisions or departments headed by appointed divisional officers. The divisions are still sub-divided into arrondissements which in turn are headed by assistant divisional officers. The smallest administrative unit is the district. Only the large subdivisions and regions that are difficult to reach are divided into districts which are administered by district heads.
To speed up analysis of the Cameroon department map, it is best to perform calculations. It is easier than exporting your data from another program. As you take a closer look, you will notice that the format is built in such a way that it is easier for the users to use. For instance, the name is seen in all caps, followed by parentheses containing any required arguments (Example: DATEVALUE(date_text))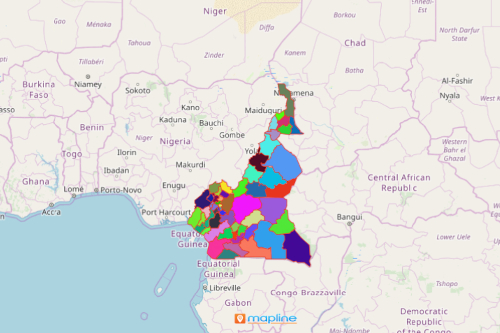 Start Mapping Cameroon Departments 
After all, it only takes a few more seconds. Then, use the calculated column format: 
Create a Mapline account and login.

Click the orange "Add New Items" button.

Select "New Map" on the drop down arrow.

Give your map a name and click "OK."

Click the "Add" button from the left sidebar.

Select the "Territories" option.

Click "From Mapline's Repository."

From the "Territories" select "Cameroon Departments." Use the search bar for quicker results.

Select how you want your boundaries to be colored in "Fill Color" (Random Colors, Uniform Color, Dynamic heat map colors, or Custom colors from spreadsheet).

Click "OK."
That's how easy it is to create a department map of Cameroon! Mapline also makes it simple to see summary information about the locations inside each department just by clicking on them! Sign up now to start digging deeper on your map using the calculated column formulas.