Ready-to-Use Mapping Tools to Speed Up Data Analysis
Mapping The Gambia local government areas using Mapline can save you time and effort as you search for data-based solutions for your business. The agricultural sector is one of The Gambia's major economies. Recent commercial opportunities include expanded irrigation systems, farming systems, and post-harvest handling systems and storage facilities. If one or more of these are your goals, let Mapline help you out! Since Mapline provides one of the most powerful mapping technologies, it provides geo-enabled solutions to real-time data so that data analysis can be significantly cut in half. 
Advanced route plans, dynamic filters, and heat maps are just some of the mapping solutions ready to be applied on a local government area map of The Gambia. With routing plans, you can create optimized bulk routes that will help you identify the shortest route, the shortest travel time, or the shortest total trip. This is very helpful as you evaluate environmental changes, manage supply chain sustainability, and analyze alignment of transport collaboration.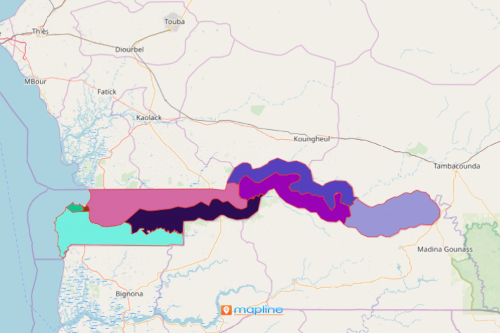 Know the Trends, Not Just The Territories
The Gambia map of local government areas can show trends beyond the 8 LGA's. In just a few clicks, you can apply dynamic filters and heat maps to gain more insights on your data. Easily create a territory map in seconds then apply these powerful mapping tools.
Create a Mapline account and login.

Click the orange "Add New Items" button.

Select "New Map" on the drop down arrow.

Give your map a name and click "OK."

Click the "Add" button from the left sidebar.

Select the "Territories" option.

Click "From Mapline's Repository."

From the "Territories" select "The Gambia Local Government Areas." Use the search bar for quicker results.

Select how you want your boundaries to be colored in "Fill Color" (Random Colors, Uniform Color, Dynamic heat map colors, or Custom colors from spreadsheet).

Click "OK."
When mapping The Gambia local government areas, make sure to use the right mapping tools to help you indetify insights that are pertinent in data and location analysis. Sign up now to know more tools to use to help you uncover trends, patterns, and insights that can directly affect your decision-making.