Map Village Boundaries for a More Focused Disaster Situation Awareness
Village councils always consult a Niue village map for emergency purposes. Niue is a paradise-like country located in the Oceania continent. It is divided into 14 villages. Last 2004, the country was hit by Cyclone Heta. It left catastrophic damages to Niue. Because of that tragedy, the village councils are now alert more than ever! Surely, the last thing that they want to happen is to have another cyclone hit the country again. Mapping the village boundaries of Niue is an insurmountable help not only to understand an upcoming threat but also to create a safer environment. Viewing a village-level map is immensely helpful to pinpoint areas that are less vulnerable to threats. This allows the government officials to respond quickly. Additionally, a village-level data analysis results in timely deployment of resources.
Mapline provides powerful mapping tools to help with disaster management. For example, heat maps are used for a deeper situational awareness. In addition, map users are able to utilize the distance measuring tool to find distances between locations. This mapping ability creates a rapid impact analysis especially when it comes to relief distributions.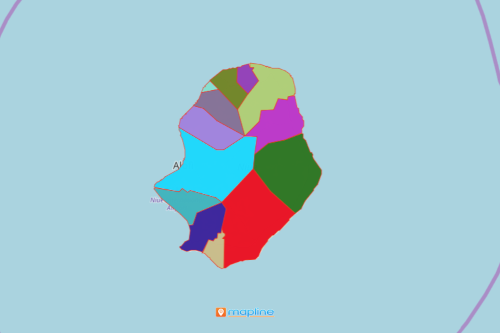 Village-Level Mapping for Improved Emergency Management
Creating a map with all the village boundaries of Niue takes only a few seconds. Once generated, start planning for risk mitigation and management.
Create a Mapline account and login.

Click the orange "Add New Items" button.

Select "New Map" on the drop down arrow.

Give your map a name and click "OK."

Click the "Add" button from the left sidebar.

Select the "Territories" option.

Click "From Mapline's Repository."

From the "Territories" select "

Niue Villages

." You can also enter that on the search bar.

Select how you want your boundaries to be colored in "Fill Color" (Random Colors, Uniform Color, Dynamic heat map colors, or Custom colors from spreadsheet).

Click "OK."
Explore other mapping tools to support a solid disaster response program. Sign up now!