Create a Map from Excel Data
Map Excel spreadsheet data in minutes to find patterns and identify growth opportunities.
Gain a visual understanding of your business, whether your goals involve segmenting customers, optimizing sales territories or expanding your coverage across the globe. Mapline's Excel mapping tools give you the power to drill down, uncover insights and easily share your findings with the whole team.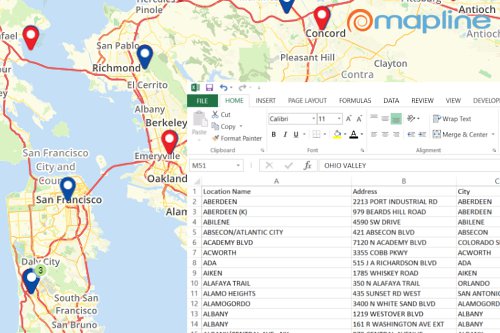 Plot locations and map Excel data
You don't have to be a spreadsheet guru to map Excel data! Mapline is the simplest Excel mapping solution on the planet to help you visualize your data as points on an eye-catching map. Simply copy and paste your spreadsheet data into Mapline and watch it transform into a powerful map.
Mapping your Excel data is this simple
Creating a map from Excel data takes only seconds. Just upload your spreadsheet and watch as your data is visualized in real time to help you make smarter business decisions.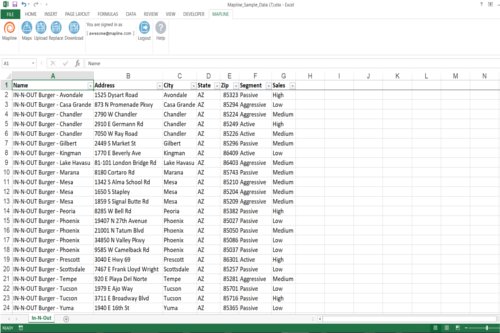 Spend less time sifting & more time analyzing
Going through every column and row in your Excel spreadsheet is time consuming. It can be difficult to identify trends and uncover new insights. Mapping your Excel data cuts out the frustration and makes it simple and easy to visualize your data.
Upload a spreadsheet in seconds.
Plot sales territories and addresses on a map.
Easil analyze your data and pull useful insights.
Identify more opportunities to grow your business.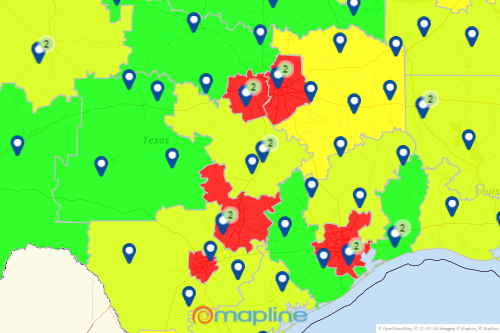 Map territories to shape and dominate your market
Get a closer look at your data when you bring it to life on a map. Add map boundaries to your sales territories with Mapline's overlay tool—think state, county, area code, zip code and more! Instantly segment, compare, balance, or adjust your territories to optimize efficiency and identify trends. Mapline's territory mapping tool even lets you choose territories across the globe, giving you a holistic view of your international data
Don't wait to map your Excel data. Start plotting your locations and mapping territories today!
Explore Our Mapping Features
Want to know what else you can do beyond just mapping your Excel data? Check out our other features: