Create a Map from Excel Spreadsheet Data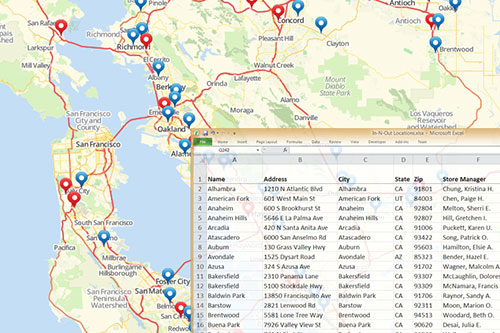 Plot locations and map Excel data
You don't have to be a spreadsheet guru to map Excel data! Mapline is the simplest Excel mapping solution on the planet to help you visualize your data. Just make sure your spreadsheet data has the correct column headers so that we can recognize the address information. Then paste your spreadsheet data (including address columns as well as all your other columns) into Mapline and watch it transform into a powerful map that you can use to get a visual representation of your data. When you plot locations on a map from Excel, you're better able to analyze the data you have to make the best decisions for your business.
Steps to plot pins on a map
Login to your Mapline account.
Click the tab "New Map" button.
Enter a name for your map.
Click the "Create Map" button. The next page will bring you to an empty map.
Click the "Add Data Layers" button from the left sidebar.
Check the box next to each data set you would like to appear on the map. If you haven't uploaded any data sets yet, then click on the "New Dataset" button.
If you are creating a new dataset, name it and paste in your data from Excel. Don't forget to include the header row of your spreadsheet so that we know which columns are which.
Click "Continue."
Click the "Done" button and your map is now ready to view.