A Closer Look at Individual Regions to Understand The Situation Better
It is important for organizations involved in research and studies for socio-economic improvement to use a Burkina Faso map showing regions. Formerly known as "Upper Volta," Burkina Faso is a West African country divided into 13 administrative regions. These regions are further divided into 45 provinces and 301 departments. Each region is headed by a governor. Food insecurity is one of the challenges facing the country today. Many non-government organizations that want to provide the necessary aid would want to understand the situation better by understanding each region's boundaries.  
Applying a certain amount of mapping tools when mapping Burkina Faso regions provides great insights that can be integral when finalizing approaches to improve food security. They can segment data to help them respond to high levels of malnutrition. On the other hand, calculating distances is a good option when planning how to send treatments for malnutrition. These and a lot more tools can be used to significantly increase the chances of understanding the situation and giving the aid needed accordingly.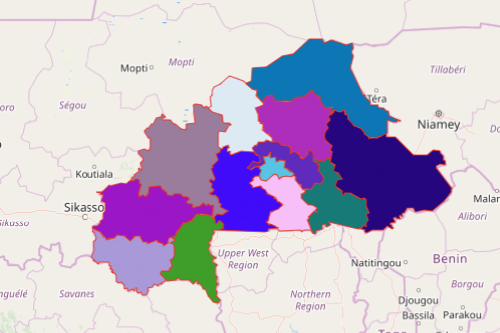 Seconds Away to Perform Region-Level Analysis
Mapping regions of Burkina Faso takes only less than a minute. Here's how:
Create a Mapline account and login.

Click the orange "Add New Items" button.

Select "New Map" on the drop down arrow.

Give your map a name and click "OK."

Click the "Add" button from the left sidebar.

Select the "Territories" option.

Click "From Mapline's Repository."

From the "Territories" select "Burkina Faso Regions." Use the search bar for quicker results.

Select how you want your boundaries to be colored in "Fill Color" (Random Colors, Uniform Color, Dynamic heat map colors, or Custom colors from spreadsheet).

Click "OK."
That's how easy it is to create a Burkina Faso map showing regions! Once you have your map, you can create a map of Excel spreadsheet locations to overlay on top. Mapline also makes it simple to see summary information about the locations inside each region just by clicking on them! Sign up now and see for yourself how it would make your life easier when conducting research using powerful mapping tools.