Find Out What Each Island Offers
As one of the most unique island countries in the world, no wonder the tourism sector wants to map Islands of Comoros. The islands of Comoros are volcanic islands divided into 3 autonomous islands: Grande Comore, Anjouan and Mohéli. It is best to identify the country's edge when it comes to tourism when individual islands are analyzed. Use a mapping software to see trends relatable to tourism. 
Applying powerful mapping tools on a Comoros map with islands lets you understand how your Excel data connects. Use distance analysis and coverage networks to discover growth opportunities. Because of its high-level visualization, you can also identify the data relationship between economic and health trends. These significant connections are relevant as you decide on the next project to launch.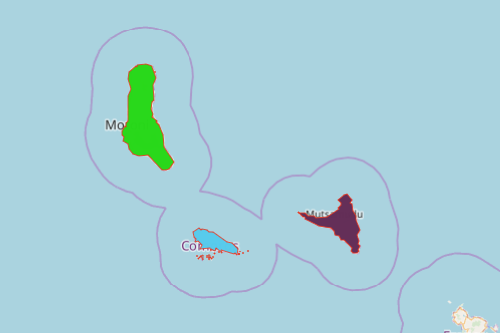 Next-Level Analysis on a Map of Islands of Comoros
Start easy by following these steps:
Create a Mapline account and login.

Click the orange "Add New Items" button.

Select "New Map" on the drop down arrow.

Give your map a name and click "OK."

Click the "Add" button from the left sidebar.

Select the "Territories" option.

Click "From Mapline's Repository."

From the "Territories" select "Comoros Islands." Use the search bar for quicker results.

Select how you want your boundaries to be colored in "Fill Color" (Random Colors, Uniform Color, Dynamic heat map colors, or Custom colors from spreadsheet).

Click "OK."
That's how easy it is to map islands of Comoros! Mapline also makes it simple to see summary information about the locations inside each department just by clicking on them! Sign up now and discover new insights for your next tourism projects.