Apply Mapping Tools to Speed Up District Territory Analysis
When smart analytical tools are applied on a Congo Republic map showing districts, a once seemingly daunting task of analyzing thousands of locations can be done in just a few minutes. That is how different offices perform their analysis and marketing when studying the district territories in the Republic of the Congo. For one, there is an ongoing active campaign to enhance birth registration across the country. As an African country with 86 districts, a birth registration drive may be a bit of a challenge. Why? 3 years ago, it was reported that there were at least 199,400 people (25,000 of which are indigenous people) who have no  birth certificates. The good news is that there is a solution on keeping track of the data simply by mapping data from Excel on a district map of the Republic of the Congo.  
Map the spreadsheet of indigenous people, people without birth certificates, or people with limited access to education and/or jobs. Segment locations based on data for a simpler, right off the bat analysis. Filter the data using the drop-down and search menus using the dynamic filtering tool. The filtering tool is designed to be user-friendly. It has simple and sleek features that allow the users to access and apply the expansive collection of text, numeric, and date filters – all in one menu!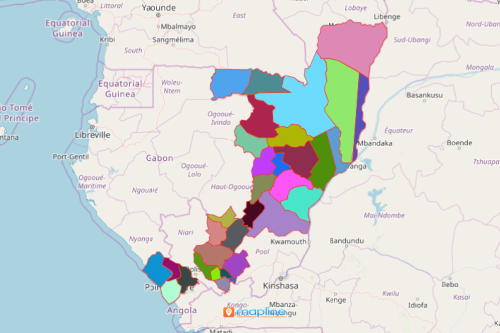 Create a Map of the Republic of the Congo District in Seconds!
Map district boundaries in seconds and compare them against population lists. The map can be used in presentations, on websites, or in print.
Create a Mapline account and login.

Click the orange "Add New Items" button.

Select "New Map" on the drop down arrow.

Give your map a name and click "OK."

Click the "Add" button from the left sidebar.

Select the "Territories" option.

Click "From Mapline's Repository."

From the "Territories" select "Congo-Brazzaville Districts." Use the search bar for quicker results.

Select how you want your boundaries to be colored in "Fill Color" (Random Colors, Uniform Color, Dynamic heat map colors, or Custom colors from spreadsheet).

Click "OK."
A Congo Republic map showing districts is not just a picture to show a list of districts. The result changes as we apply different kinds of mapping tools for different kinds of data analysis. The way we look on a map changes as we use different analytic tools. Sign up now to maximize your territory maps. Learn how to use other powerful mapping tools to enhance your analysis.