Use Trusted Real Estate Mapping Software to Gain Strategic Advantage Over Competitors
Because there is a surge in sales in the residential property market, companies in the real estate industry would like to dive deeper to understand a South Africa ward map. South Africa can be found in the southernmost part of Africa. There are 4,392 wards in the country. Using a trusted mapping real estate software, developers, brokers, and agents can be able to leverage more visualizations, data-based analyses, and team collaboration for continuous business improvement.
When mapping wards of South Africa, real estate professionals can upload property photos to use as map pins. They can also add other Excel spreadsheet locations that show important addresses like hospitals, offices, schools, and commercial establishments that might appeal to the clients. Then, apply the network coverage to show properties within a specified radius. During presentation, your clients will not only appreciate the powerful visualization. The more the clients understand the connections between properties and other underlying factors, the better the likelihood to close deals.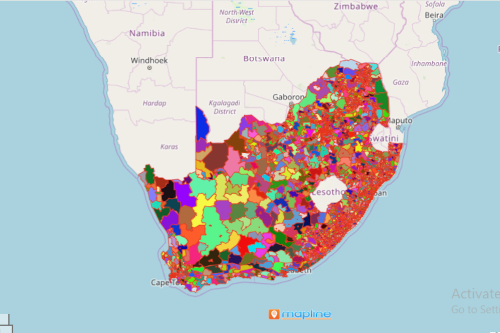 Deliver Greater Insights When Mapping South Africa Wards
Try adding ward boundaries on a map. Then, instead of working in Excel spreadsheets manually, Mapline's real estate mapping software lets you update your data automatically. Share the information to the team real time so that the whole team can make better decisions from collaborative data analyses. 
Create a Mapline account and login.

Click the orange "Add New Items" button.

Select "New Map" on the drop down arrow.

Give your map a name and click "OK."

Click the "Add" button from the left sidebar.

Select the "Territories" option.

Click "From Mapline's Repository."

From the "Territories" select "South Africa Wards." Use the search bar for quicker results.

Select how you want your boundaries to be colored in "Fill Color" (Random Colors, Uniform Color, Dynamic heat map colors, or Custom colors from spreadsheet).

Click "OK."
Take real estate marketing to the next level as you get the full use of the South Africa ward map. Sign up now to learn more on how to impress your clients by letting them understand the whole picture of the properties using Mapline – the trusted real estate mapping software.