Reshape Your Territory Analysis in Provincial Level Maps
A map of Afghanistan provinces coupled with location data helps to understand your map story. Afghanistan is a country nestled between South and Central Asia. It is divided into 34 provinces which are further divided into 400 provincial districts. Accordingly, when analyses are done at a provincial level, the best locations are pinned down. No wonder, a provincial map is an integral tool for research and site analysis. 
A map of provinces of Afghanistan is used for territory planning. Organization leaders and decision makers based their actions on location-based insight. By integrating Excel locations on a map showing provinces, connections and patterns underneath the data are unearthed.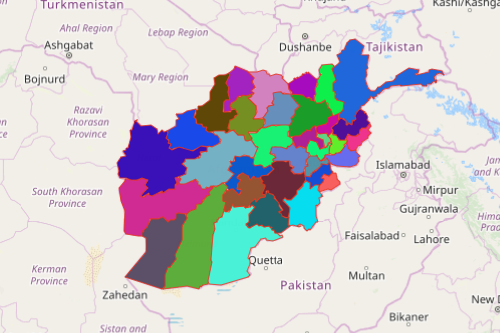 Seconds Away to Build a Provinces of Afghanistan Map
Follow these simple steps and in seconds, you will come up with provinces of Afghanistan map! It is not only attractive but powerful!  
Create a Mapline account and login.

Click the orange "Add New Items" button.

Select "New Map" on the drop down arrow.

Give your map a name and click "OK."

Click the "Add" button from the left sidebar.

Select the "Territories" option.

Click "From Mapline's Repository."

From the "Territories" select "Afghanistan Provinces." Use the search bar for quicker results.

Select how you want your boundaries to be colored in "Fill Color" (Random Colors, Uniform Color, or Custom Colors From Spreadsheet).

Click "OK."
That's how easy it is to create a map of provinces of Afghanistan! Mapline also makes it simple to see summary information about the locations inside each province just by clicking on them! Sign up now to identify the right locations. Learn how other mapping tools like distance calculation and routing can be used in data and territory planning.