Apply Heat Maps for Risk Assessment 
There are a lot of uses of a Bhutan gewogs map. Bhutan is a country located in the Eastern Himalayas nestled between China and India. There are about 205 gewogs in the country. Because of its geographical location, the country is vulnerable to natural hazards. That includes earthquakes, floods, forest fires, and landslides. Climate change is also a big factor which affects the country's vulnerability to extreme weather events and natural disasters. As each gewog council consults a map with gewog boundaries and population data, the council is able to produce results based on risk-informed decision-making. 
Can a territory map really do that? Yes, with the help of powerful mapping tools. Because of its visually intuitive way of seeing the concentration of data, a heat map is used for multi-hazard risk assessment. Mapline offers territory heat mapping and radial heat mapping so gewog boundaries can be compared to one another. Applying either type of heat maps when mapping Bhutan gewogs is a great advantage when developing plans for risk assessment and better public service.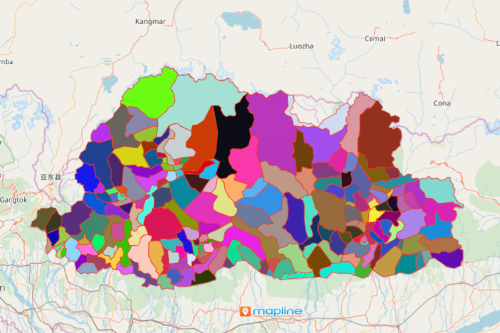 Map Bhutan Gewogs in Seconds!
Once generated, apply heat maps and other mapping tools to enhance your decision-making for risk assessment.
Create a Mapline account and login.

Click the orange "Add New Items" button.

Select "New Map" on the drop down arrow.

Give your map a name and click "OK."

Click the "Add" button from the left sidebar.

Select the "Territories" option.

Click "From Mapline's Repository."

From the "Territories" select "Bhutan Gewogs." Use the search bar for quicker results.

Select how you want your boundaries to be colored in "Fill Color" (Random Colors, Uniform Color, or Custom Colors From Spreadsheet).

Click "OK."
Integrate risk information as you analyze a Bhutan gewogs map. Sign up now and learn more tools to use to build a better risk-informed decision support system.