A Prefecture-Level Map Helps to Study High-Performing Markets
More and more marketing strategists, sales managers, and company executives are mapping prefectures of China. Why? Because they all need to understand the locations of potential high-performing markets. Because of its land area, China is considered to be one of the largest countries in the world. No wonder a lot of people are overwhelmed just to study its land borders. Nevertheless, when it comes to business, understanding the locations is fundamental. Hence, Mapline provides a territory boundary that is perfect to understand the country better – prefectures of China boundary! 
China is divided into 333 prefectures. When data analysis is done at prefecture-level, the users often see correlations between locations and sales trends. These lead to the best marketing strategy ideas that they can adapt for their competitive advantage. A diligent study of each prefecture boundary leads to increased sales and more market shares.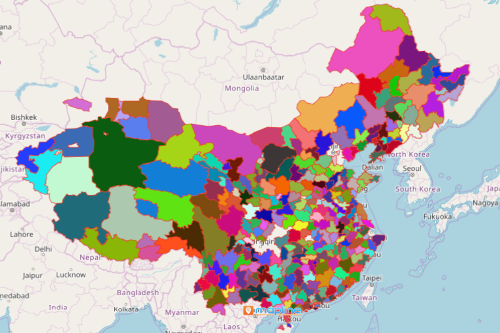 Be Ahead of Your Competitors by Mapping China Prefectures
Each prefecture boundary tells a story that drives informed decisions. So start mapping the prefecture boundaries for your business needs:
Create a Mapline account and login.

Click the orange "Add New Items" button.

Select "New Map" on the drop down arrow.

Give your map a name and click "OK."

Click the "Add" button from the left sidebar.

Select the "Territories" option.

Click "From Mapline's Repository."

From the "Territories" select "

China Prefectures

." Use the search bar for quicker results.

Select how you want your boundaries to be colored in "Fill Color" (Random Colors, Uniform Color, or Custom Colors From Spreadsheet).

Click "OK."
Sign up now and get to learn more mapping tools to help you outperform the competition.