A District-Level Map as a Guide for Land Utilization
Many organizations in the energy industry use a Myanmar district map to better manage the country's energy resources. Myanmar is a landlocked country located in Asia. It is divided into 76 districts. In recent years, there are at least 39 potential locations suitable for geothermal power production in Myanmar. Identifying these locations means increase in workforce, improvement in geothermal production, and more. Mapping the 76 districts of Myanmar brings a data visualization that can be understood immediately. Each district boundary tells a significant story about renewable natural resources. Additionally, district areas may reveal relationships in location data that signify actionable insights.
Heat maps are often used to tap potential geothermal power production locations. Moreover, they add value into pinpointing which locations can be utilized further. At the same time, heat maps are an essential tool to mitigate risk. In addition, an overlay of district boundaries on a map signifies location insights that reveal trends useful for better informed decisions.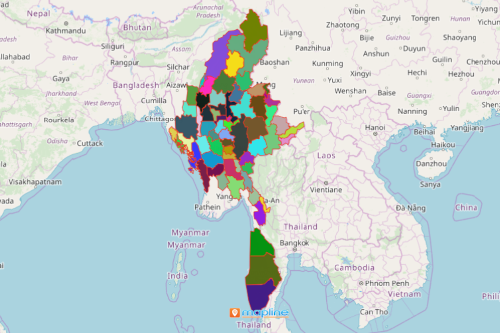 Get Started with Mapping!
It only takes less than a minute to create your first map. After which, immediately use your Myanmar District map for gaining competitive insights, maximizing production, and more!
Create a Mapline account and login.

Click the orange "Add New Items" button.

Select "New Map" on the drop down arrow.

Give your map a name and click "OK."

Click the "Add" button from the left sidebar.

Select the "Territories" option.

Click "From Mapline's Repository."

From the "Territories" select "

Myanmar Districts

." You can also enter that on the search bar.

Select how you want your boundaries to be colored in "Fill Color" (Random Colors, Uniform Color, Dynamic heat map colors, or Custom colors from spreadsheet).

Click "OK."
Indeed, with the right mapping tools on hand, you can tap new locations for geothermal power production! Sign up now and experience working with mapping tools to empower you with location insights that will help your organizations thrive.