A Province-Level Map for In-Depth Study of Public Health
Mapping Provinces of North Korea is one example of how maps can be used for public health analysis. North Korea is a country located in Asia. It has 9 provinces. Understanding the impacts of locations within each provincial boundary always leads to better health programs. Location data is a big help in creating a plan for health services. However, unless visualized in a way that members of the organization can easily understand, data remain useless. Hence, most organizations trust the powerful mapping tools of Mapline. It provides mapping abilities to turn data connections into insights. An Excel data map with an overlay of boundaries leads to informed decisions. These are crucial for improved health outcomes and healthier communities.
One powerful mapping solution that is used during resource allocation is route optimization. This mapping tool helps the users to see where the resources should be distributed and how it should be delivered. The data visualization provided by optimized routes enables the users to effectively reach out to people and provide them the resources that they really need.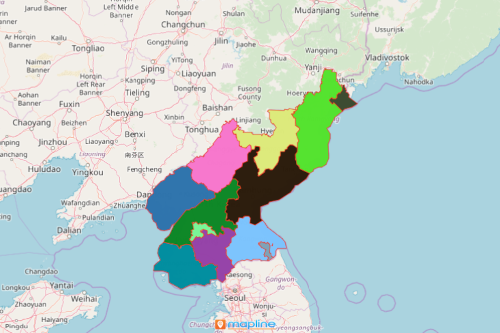 Map Provincial Boundaries to Enhance Public Health Services 
In just 10 easy steps, you will be able to build a map with an overlay of provincial boundaries:
Create a Mapline account and login.

Click the orange "Add New Items" button.

Select "New Map" on the drop down arrow.

Give your map a name and click "OK."

Click the "Add" button from the left sidebar.

Select the "Territories" option.

Click "From Mapline's Repository."

From the "Territories" select "

North Korea Provinces

." You can also enter that on the search bar.

Select how you want your boundaries to be colored in "Fill Color" (Random Colors, Uniform Color, Dynamic heat map colors, or Custom colors from spreadsheet).

Click "OK."
Sign up now and learn how you can strengthen your public health preparedness with the help of powerful mapping tools.