Gain Insights for Disaster Preparedness from a Division-Level Map
A Tajikistan division map is a great help when understanding the risks that the country faces. Tajikistan is a landlocked country located in Central Asia. Tajikistan is divided into 4 divisions – 2 provinces (Sughd and Khatlon), autonomous province (Gorno-Badakhshan), and the Region of Republican Subordination. In the past years, the country faced severe drought which deeply affected the food production.
Mapping the divisions of Tajikistan results in better location understanding. The insights gained from looking at the map can be used for risk mitigation planning. Another valuable tool is the distance analysis tool. When facing opportunities like pandemic, threats, or natural calamities, the distance calculator helps in creating custom routes. This is invaluable when sharing the maps to team mates or members of your organization to increase road travel efficiencies. Even better, it helps cut transportation costs!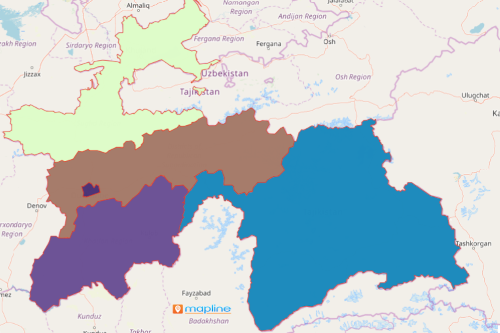 Build a Tajikistan Division Map for Disaster Preparedness
A division map is more than just an attractive visual. More than that, it is a data visualization that is actually functional! Deal with disaster prevention and preparedness as you build your map now!
Create a Mapline account and login.

Click the orange "Add New Items" button.

Select "New Map" on the drop down arrow.

Give your map a name and click "OK."

Click the "Add" button from the left sidebar.

Select the "Territories" option.

Click "From Mapline's Repository."

From the "Territories" select "

Tajikistan Divisions

." You can also enter that on the search bar.

Select how you want your boundaries to be colored in "Fill Color" (Random Colors, Uniform Color, Dynamic heat map colors, or Custom colors from spreadsheet).

Click "OK."
Sign up now to know more details on how mapping tools can arm the users with actionable insights to prepare for risks.