The Power of a Map of Regions of Czech Republic
Local government units and health department offices are mapping regions of Czech Republic to monitor the spread of virus. This month, the Covid-19 infection in the country has alarmingly reached more than one million. Therefore, the need to know the situations per region is crucial.
When regions of Czech Republic are visualized on a map, a bigger picture of the spread of virus is more notable. Moreover, the map leads to timely and practical planning to mitigate factors against worsening events. Hence, Mapline's territory maps are truly pivotal when planning for improved health outcomes.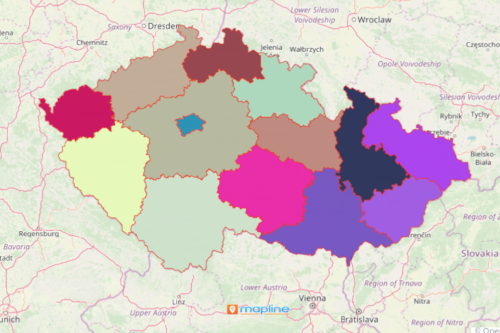 Mapping Regions of Czech Republic Leads to Better Health
Use a region-level map to quickly deliver projects related to better health communities. In addition, the map is also useful in analyzing health and community projects, delivering essential products and services, and sharing updated information.
Create a Mapline account and login.

Click the orange "Add New Items" button.

Select "New Map" on the drop down arrow.

Give your map a name and click "OK."

Click the "Add" button from the left sidebar.

Select the "Territories" option.

Click "From Mapline's Repository."

From the "Territories" select "Czech Republic Regions." You can also enter that on the search bar.

Select how you want your boundaries to be colored in "Fill Color" (Random Colors, Uniform Color, Dynamic heat map colors, or Custom colors from spreadsheet).

Click "OK."
Undoubtedly, a map showing all 13 regions of Czech Republic leads to life-saving decision-making. Sign up now to monitor the changing situations on each region.