Know The Importance of a Region-Level Map in the Transportation Industry
Large international companies turn into mapping cultural regions of Latvia to analyze their competitive advantage. When it comes to transit, Latvia gained its popularity in Europe and Asia. The country prides in having 4 of the largest ports in Europe. Thus, when it comes to transportation business, these companies rely only on the trusted mapping software – Mapline. It allows them to overlay territory boundaries on their Excel data map. Data analysis becomes more visual when territories, such as cultural regions, are added. This data visualization empowers the companies the insights to manage their business more productively. 
Companies and investors alike need to understand locations. Mapline provides powerful business intelligence tools that extract key insights in business processes. The trends and patterns from these maps are helpful in monitoring port performances. In addition, these insights are highly significant in asset management, risk mitigation, and logistics.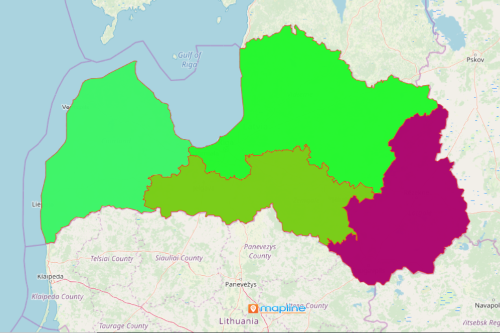 Region-Level Mapping – Keeping the Business Going
The port industry may be highly complex. But with the right tools such as a region-level map, port leaders are able to understand their port assets and development better. Here are 10 simple ways to start territory mapping:
Create a Mapline account and login.

Click the orange "Add New Items" button.

Select "New Map" on the drop down arrow.

Give your map a name and click "OK."

Click the "Add" button from the left sidebar.

Select the "Territories" option.

Click "From Mapline's Repository."

From the "Territories" select "

Latvia Cultural Regions

." You can also enter that on the search bar.

Select how you want your boundaries to be colored in "Fill Color" (Random Colors, Uniform Color, Dynamic heat map colors, or Custom colors from spreadsheet).

Click "OK."
Sign up now to know more about how mapping tools support strategic planning analyses in the port industry.