What a Block Groups Territory Map Can Do For You
Good news! You can now start creating a Block Groups of US map! The US Census Bureau uses census block groups to publish sample data. Block Groups are divisions of census tracts which have a population between 600-3,000 people. They are a collection of census blocks within a specific census tract. In the US, there are 217,740 block groups. With this unique territory boundary available, you can move your data analysis to a totally whole new level! 
An Excel data map with an overlay of block group boundaries lets you uncover far greater insights than you can possibly know. By combining location data and territories, you can plot seamless disaster recovery plans, improve performance reporting, leverage distance analysis, and optimize sales territories.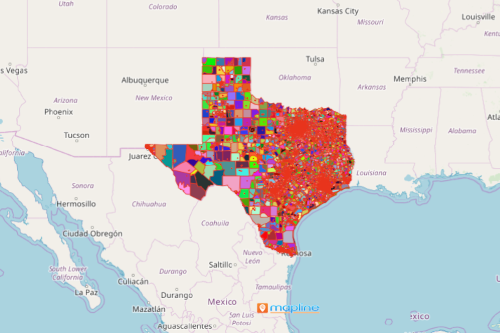 Got Seconds? Build Your Block Groups Map Now!
Yes, you read it right. It only takes a few seconds to generate a territory map of US Block Groups. And it begins by following these simple steps:
Create a Mapline account and login.

Click the orange "Add New Items" button.

Select "New Map" on the drop down arrow.

Give your map a name and click "OK."

Click the "Add" button from the left sidebar.

Select the "Territories" option.

Click "From Mapline's Repository."

From the "Territories" select "

U.S. Block Groups

." You can also enter that on the search bar.

Select how you want your boundaries to be colored in "Fill Color" (Random Colors, Uniform Color, Dynamic heat map colors, or Custom colors from spreadsheet).

Click "OK."
Mapline offers hundreds more unique and special territories for your mapping. Sign up now to access hundreds of US and international territory boundaries.