Learn More About Alaska Native Regional Corporation 
You can now map Alaska Native Regional Corporation of the USA! Mapline offers hundreds of unique territory boundaries such as Alaska Native Regional Corporation. The Alaska Native Claims Settlement Act (ANCSA) divided Alaska into 12 geographic regions. Each region is represented by a native association. Among its many responsibilities of the native association is the enrollment of past and present residents of the region. With this regional boundary, you can now take your data analysis into the next level!
Data analysis is easy from the get-go. It starts with a simple copy and paste method. Just copy your Excel data and paste it into Mapline to generate a map. Once generated you can use other powerful analytical tools to customize how you want to visualize and understand your data. Customize your map pins to convey information in a snap. Set colors, sizes, and shapes and even add map location labels.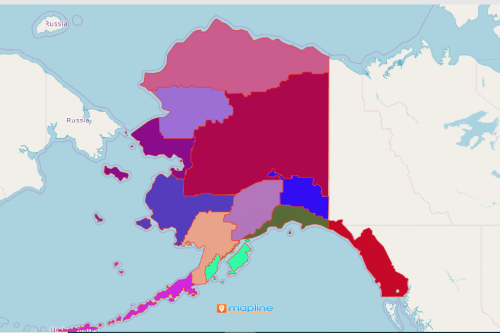 Data Interaction Made Easier with Territory Map 
Creating a territory map is just the start. You can do so much more! But first, here are the steps to take you to your first map:
Create a Mapline account and login.

Click the orange "Add New Items" button.

Select "New Map" on the drop down arrow.

Give your map a name and click "OK."

Click the "Add" button from the left sidebar.

Select the "Territories" option.

Click "From Mapline's Repository."

From the "Territories" select "

U.S. – Alaska Native Regional Corporation (2019)

." You can also enter that on the search bar.

Select how you want your boundaries to be colored in "Fill Color" (Random Colors, Uniform Color, Dynamic heat map colors, or Custom colors from spreadsheet).

Click "OK."
Sign up now to experience advanced mapping and data and territory analysis like no other.