Shape Economic Sustainability Through Mapping
Business sectors can learn a lot just by mapping Marshall Islands and Atolls. Marshall Islands is a country in Oceania nestled between Hawaii and Australia. It is made up of 1,152 islands and 30 atolls. Mapline offers unique territory boundaries for Marshall Islands. This special boundary enables the users to gain critical understanding that is imperative for economic development. 
Tuna processing is one of the island country's sources of income. In fact, Majuro, the capital city of Marshall Islands, is the busiest tuna trans-shipment port in the world. Be empowered to know more about the ins and outs of the tuna industry business by data analytics and mapping. Learn to identify gaps, services, and produce. Identify opportunities by using data-driven maps.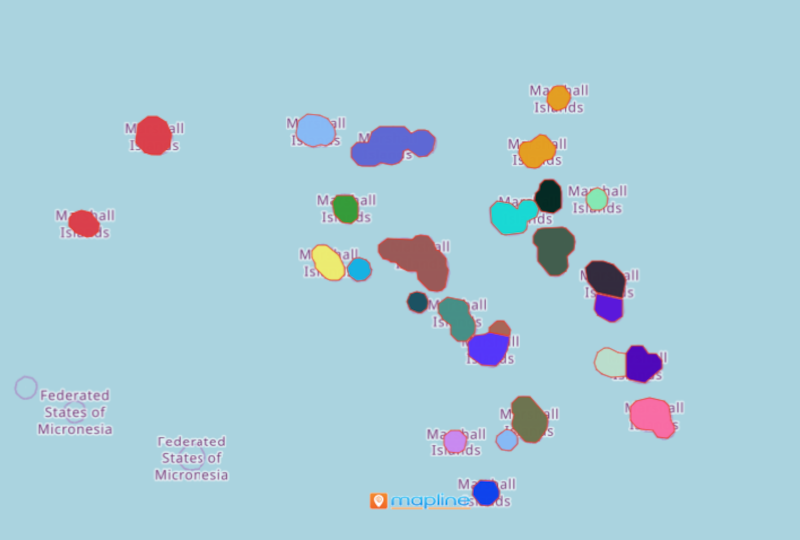 Include Maps in your Development Plans
Here's the easiest way to create your map:
Create a Mapline account and login.

Click the orange "Add New Items" button.

Select "New Map" on the drop down arrow.

Give your map a name and click "OK."

Click the "Add" button from the left sidebar.

Select the "Territories" option.

Click "From Mapline's Repository."

From the "Territories" select "Marshall Islands and Atolls." You can also enter that on the search bar.

Select how you want your boundaries to be colored in "Fill Color" (Random Colors, Uniform Color, Dynamic heat map colors, or Custom colors from spreadsheet).

Click "OK."
The data visualization produced by mapping Marshall Islands and atolls is a big help in  identifying opportunities for economic growth. Sign up now to have a clearer forecast on how your economy booms with more success by powerful mapping tools.