State-Level Mapping for More Agile Emergency Planning
Local government authorities map states of Venezuela to help them be more agile in managing emergency situations. Successful planning about the growing threats and timely responsiveness starts by mapping the first level of administrative boundary of Venezuela – the states. Venezuela is a country located on the northern coast of South America. It is divided into 23 states. In our new normal situation, the local government agencies should be more agile in planning for emergency management. Thus, analyzing the geographical nature of state boundaries is a big help in monitoring and managing each area for emergency preparedness. A state territory map with Excel data provides a framework to easily analyze and visualize data to completely understand the significance of location information. Integrate multiple layers of dataset on a map to produce actionable insights pertinent into managing states in emergency situations.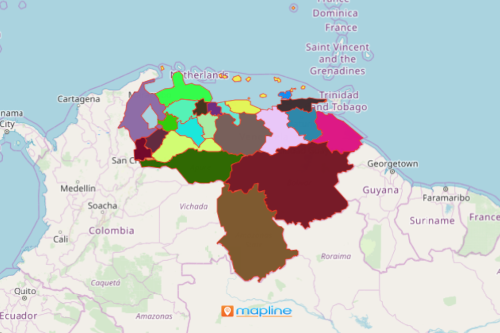 Map States of Venezuela in Less Than a Minute
A state-level map can be generated in just a few seconds. After which, you can immediately share the map to other agencies like first responders or law enforcements for proper coordination of emergency responses. Sharing a map or embedding it on a website definitely eliminates duplication of efforts and makes emergency responsiveness more astute.
Create a Mapline account and login.

Click the orange "Add New Items" button.

Select "New Map" on the drop down arrow.

Give your map a name and click "OK."

Click the "Add" button from the left sidebar.

Select the "Territories" option.

Click "From Mapline's Repository."

From the "Territories" select "

Venezuela States

." You can also enter that on the search bar.

Select how you want your boundaries to be colored in "Fill Color" (Random Colors, Uniform Color, Dynamic heat map colors, or Custom colors from spreadsheet).

Click "OK."
Sign up now and learn more on how to plan effectively using mapping tools to enhance and improve emergency monitoring and management.