See Data in Context Using Territory Map
A district map of Algeria is an important tool for economic developers. Known as the largest country in Africa, Algeria poses a lot of great opportunities for different sectors – industrial, tourism, food, and many more. To help you understand the geographical terrain of the country, Mapline provides a district boundary of Algeria. Algeria has 547 districts.
When district boundries are overlaid on a map with your Excel data of locations, you will see important information that may be somehow hidden in rows and columns of Excel. Since map is a powerful data visualization, it uncomplicates data analysis.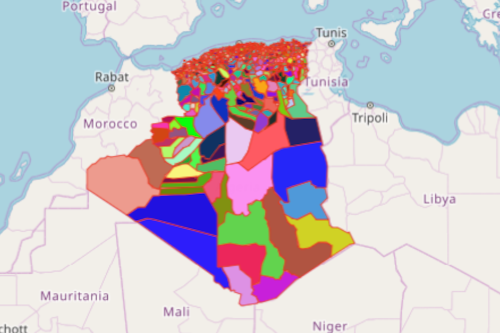 The Pivotal Role of Algeria District Map  
Visualize and analyze business growth potential by combining data with the district boundary of Algeria. It just takes a few seconds to build an Algeria district map: 
Create a Mapline account and login.

Click the orange "Add New Items" button.

Select "New Map" on the drop down arrow.

Give your map a name and click "OK."

Click the "Add" button from the left sidebar.

Select the "Territories" option.

Click "From Mapline's Repository."

From the "Territories" search for "Algeria Districts." Use the search bar for quicker results. 

Select how you want your boundaries to be colored in "Fill Color" (Random Colors, Uniform Color, Dynamic heat map colors, or Custom colors from spreadsheet).

Click "OK."
Sign up now and know more on how Mapline can help your organization understand data and discover untapped potentials.