Problem Solving Made Better with Provincial-Level Mapping
A lot of non-government agencies involved in the studies of land administration use a Burundi map showing provinces to help them understand not only the geographical nature of the country. Burundi is an East African country that is divided into 18 provinces which are further divided into 117 communes and 2,638 hills. The 18th province is Rumonge which was only created on March 26, 2015. It consists of 5 communes.  With the province boundaries overlaid on a map, they can understand the reasons behind the "why's." For example, why is deforestation or soil erosion more prominent in these provinces compared to others? What can be done about habitat loss in this particular province? Or what can be done to improve the conditions of communities affected by famine and food shortages?
To answer these, organizations apply different mapping tools on a Burundi province map. For one, they use radial heat maps. They use color-coded concentrations that show areas that are densely populated versus the least populated areas. Radius mapping also offers a different visualization wherein the users can identify pins that are clustered together in high-density areas. The result gives a clear visibility of which areas to focus on to address the issues.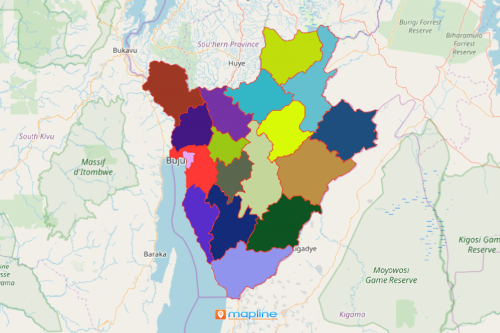 10 Steps Away to Create a Province Map of Burundi
A few more seconds and you can start your data and territory analysis for your land administration studies:
Create a Mapline account and login.

Click the orange "Add New Items" button.

Select "New Map" on the drop down arrow.

Give your map a name and click "OK."

Click the "Add" button from the left sidebar.

Select the "Territories" option.

Click "From Mapline's Repository."

From the "Territories" select "Burundi Provinces." Use the search bar for quicker results. 

Select how you want your boundaries to be colored in "Fill Color" (Random Colors, Uniform Color, Dynamic heat map colors, or Custom colors from spreadsheet).

Click "OK."
That's how easy it is to create a Burundi map showing provinces! Once you have your map, you can create a map of Excel spreadsheet locations to overlay on top. Mapline also makes it simple to see summary information about the locations inside each province just by clicking on them! Sign up now to gain access to a variety of tools for land administration.