How to Effectively Use Insights Gained from Cameroon District Map
A district map of Cameroon is beneficial to local government units. This is usually used to understand critical incidents. Among the most intense and complex of these incidents are natural disasters. When each district boundary is overlaid on a map, the complexities and effects of the incidents are easily understood. The map can also be shared to district leaders to help in fast responsiveness. Additionally, it guarantees that the resources are effectively distributed to affected areas. 
In addition, the Cameroon district map can save lives and properties. How? When shared, it informs the response teams with shared awareness.  Sharing maps or embedding the maps to the website ensures the right communication. It allows the proper flow of collaboration and coordination between government offices.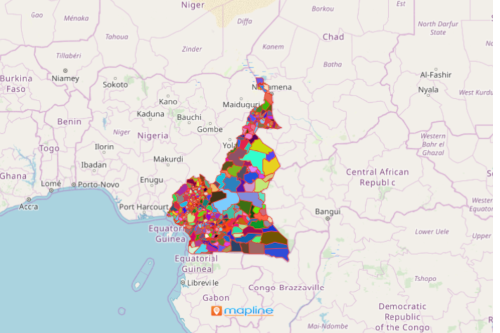 In Times of Crisis, Create a Map!
Here are the steps to take to start creating your map with Cameroon Districts:
Create a Mapline account and login.

Click the orange "Add New Items" button.

Select "New Map" on the drop down arrow.

Give your map a name and click "OK."

Click the "Add" button from the left sidebar.

Select the "Territories" option.

Click "From Mapline's Repository."

From the "Territories" select "Cameroon Districts." Use the search bar for quicker results.

Select how you want your boundaries to be colored in "Fill Color" (Random Colors, Uniform Color, Dynamic heat map colors, or Custom colors from spreadsheet).

Click "OK."
Use the district map of Cameroon so that everyone is aligned on the target mission. With the right mapping tools, the whole community can turn from chaos to harmony. Sign up now to take advantage of all the tools needed for map collaboration.