Province-Based Mapping for Responsible Mining
A provinces map of Guinea-Bissau is a vital step for organizations in the mining industry. Guinea-Bissau is located in West Africa. It is divided into 8 regions and 37 sectors. Mining is the core of its economy. Because of that, many organizations in the mining industry use maps for deep location analysis. How? First, they acquire data as accurately as possible. Then, they plot the data on a map. Lastly, they overlay province boundaries. Following these steps ensures them that mining activities are maintained in a responsible and efficient ways.
For this reason, maps help in tracking the mining activities for each province.  An accurate Excel spreadsheet data with an overlay boundary leads to speedy data solutions. Additionally, the map shows which provinces record abandoned land mines, land changes, and other serious impacts in the industry. Sharing this information with leaders or local government officials helps significantly to uncomplicate matters when it comes to environmental assessments.  
The Visual Power of Mapping Provinces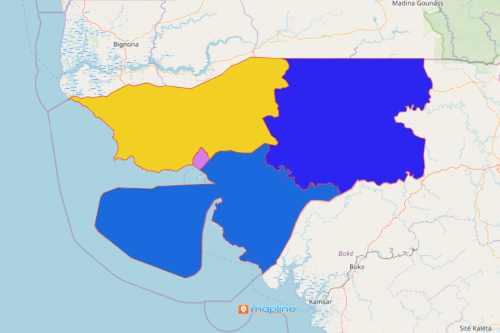 A province-based map is a powerful analytic tool for project designs. These easy steps will help you get started when creating a province-level map:
Create a Mapline account and login.

Click the orange "Add New Items" button.

Select "New Map" on the drop down arrow.

Give your map a name and click "OK."

Click the "Add" button from the left sidebar.

Select the "Territories" option.

Click "From Mapline's Repository."

From the "Territories" select "

Guinea-Bissau Provinces

." Use the search bar for quicker results.

Select how you want your boundaries to be colored in "Fill Color" (Random Colors, Uniform Color, Dynamic heat map colors, or Custom colors from spreadsheet).

Click "OK."
Indeed, mapping the province boundaries is a very helpful tool in the mining industry.  Sign up now to learn more on how Mapline as your analytical platform helps in mining, land, and environmental management.