Mapping District Boundaries to Align Healthcare Goals
Healthcare organizations use a Liberia District map to fully understand the health situation in the country. Liberia is an African country. It is divided into 90 districts. Non-government offices and international organizations are giving out healthcare support to Liberia. What better way to provide such support is by mapping the territory boundaries of the country. Thus, mapping the districts of Liberia is an important factor to ensure that healthcare services are delivered appropriately and accordingly. Mapping district boundaries drives insights to help decision makers in planning and coordination. A powerful data visualization helps avoid miscommunication, excessive travels, and enormous expenses.
Mapline designs other powerful mapping tools to strengthen communication. For example, a radius map is used to visit communities with the highest number of Covid-19 cases. This leads to optimization of community visit sequence while reducing the travel costs. Another example is sharing maps. Maps can be shared to disseminate the right information thereby eliminating confusion. Truly, with a map that covers all the district boundaries of Liberia, a better communication within the healthcare industry can be built!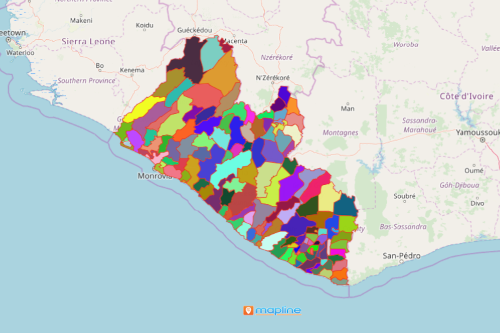 District Mapping to Give Out The Best Help
Let your district-level map show you which districts to prioritize and what particular healthcare assistance is needed. Begin mapping by following these steps:
Create a Mapline account and login.

Click the orange "Add New Items" button.

Select "New Map" on the drop down arrow.

Give your map a name and click "OK."

Click the "Add" button from the left sidebar.

Select the "Territories" option.

Click "From Mapline's Repository."

From the "Territories" select "

Liberia Districts

." Use the search bar for quicker results.

Select how you want your boundaries to be colored in "Fill Color" (Random Colors, Uniform Color, Dynamic heat map colors, or Custom colors from spreadsheet).

Click "OK."
Sign up now to learn more options on how you can build a stronger communication within your organization. Use the right data mapping tools for a time-efficient and cost-effective ways of data analyses.