Create Back-Up Plans in No Time by Mapping Province Boundaries
A Madagascar map showing provinces is beneficial to understand and mitigate the challenges caused by extreme climate changes. Madagascar is an island country on the coast of Southeast Africa. It comprises a number of small peripheral islands. The island of Madagascar is considered to be the 4th largest island in the world. Madagascar is divided into 6 provinces, 22 regions, 119 districts, 1,579 communes, and 17,485 fokontany. This year, Madagascar faces the world's first climate change famine. Hence, it is imperative to develop a climate risk matrix. That is where a location data plotted on a Madagascar province map steps in.
Mapline is a risk mitigation software that allows the organizations to identify solutions to mitigate the risks of climate change. Use heat maps, BI dashboards, and coverage tools to ensure the safest actions to implement at the most immediate time.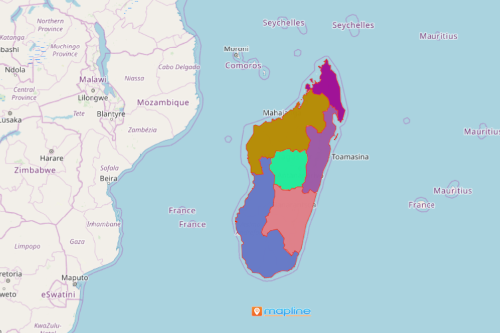 Steps to Create a Province Map of Madagascar
Running out of time? Don't worry! These 10-step to map creation takes only a few seconds:
Create a Mapline account and login.

Click the orange "Add New Items" button.

Select "New Map" on the drop down arrow.

Give your map a name and click "OK."

Click the "Add" button from the left sidebar.

Select the "Territories" option.

Click "From Mapline's Repository."

From the "Territories" select "Madagascar Provinces." Use the search bar for quicker results.

Select how you want your boundaries to be colored in "Fill Color" (Random Colors, Uniform Color, Dynamic heat map colors, or Custom colors from spreadsheet).

Click "OK."
That's how easy it is to create a Madagascar map showing provinces! Mapline also makes it simple to see summary information about the locations inside each province just by clicking on them! Sign up now to get to experience the advantage of using our risk mitigation software.