Experience Analyzing a District Map on a Business Data Framework
With the right intelligence location tools, turn your district map of Malawi into a pool of insights and ideas for decision-making! Formerly known as "Nyasaland," Malawi is one of the smallest countries in Africa. Malawi consists of 3 regions (Central, Northern, and Southern Regions) divided into 28 districts. Now, you can decentralize your decision-making so that your whole team can have access to your maps and data. 
The Mapline Solution Suite is a one-stop destination for all your decision making tools. From this business data framework, you can maximize the usages of Malawi districts map. It involves mapping Excel data, generating bulk routes, BI Charting, and so much more!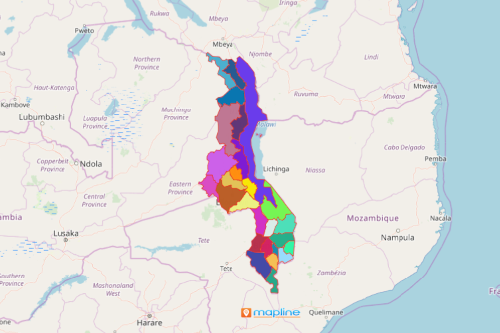 Create Map of Malawi Districts in Seconds!
Once generated, access the most powerful products, features, and tools available to help with your decision-making.
Create a Mapline account and login.

Click the orange "Add New Items" button.

Select "New Map" on the drop down arrow.

Give your map a name and click "OK."

Click the "Add" button from the left sidebar.

Select the "Territories" option.

Click "From Mapline's Repository."

From the "Territories" select "Malawi Districts." Use the search bar for quicker results.

Select how you want your boundaries to be colored in "Fill Color" (Random Colors, Uniform Color, Dynamic heat map colors, or Custom colors from spreadsheet).

Click "OK."
That's how easy it is to create a district map of Malawi! Mapline also makes it simple to see summary information about the locations inside each district just by clicking on them. Sign up now and be empowered by the Mapline Solutions Suite!