Province-Level Analysis Helps Identify The Changing Needs 
To help the Community-Based Natural Resource Management address the growing issues when it comes to managing natural resources, they take a deep analysis in Mozambique map showing provinces. Mozambique is divided into 10 provinces and 1 capital city, Maputo, the largest city in the country.  The provinces in Mozambique are further divided into 128 districts. Plotting location data on a province map of Mozambique is crucial in identifying threats, eliminating haphazard use of resources, and improving rural economies.
The council relies on mapping technology to allow them to adapt to the growing changes in the industry. Using Mapline's platform, powerful mapping tools, and BI, environmental professionals are able to see critical situations in real time. Hence, they speed up the process in planning and implementing the right course of actions as needed.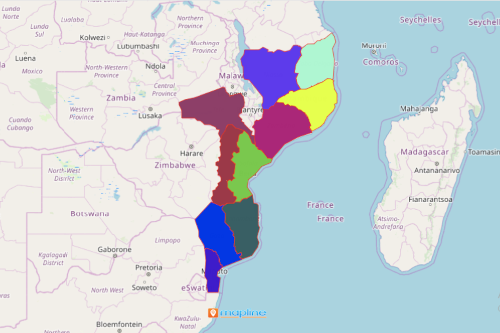 Steps to Create a Map of Mozambique Provinces
Improve operational efficiency as you create a Mozambique province map. Here are the simple steps:
Create a Mapline account and login.

Click the orange "Add New Items" button.

Select "New Map" on the drop down arrow.

Give your map a name and click "OK."

Click the "Add" button from the left sidebar.

Select the "Territories" option.

Click "From Mapline's Repository."

From the "Territories" select "Mozambique Provinces." Use the search bar for quicker results.

Select how you want your boundaries to be colored in "Fill Color" (Random Colors, Uniform Color, Dynamic heat map colors, or Custom colors from spreadsheet).

Click "OK."
That's how easy it is to create a Mozambique map showing provinces! Mapline also makes it simple to see summary information about the locations inside each province just by clicking on them! Sign up now and start using more mapping tools to help you bust the challenges when managing natural resources.