A Powerful Data Visualization That Shows Where Locations and Health Needs Intersect
A Rwanda district map enables public health officials to assist each district with public health preparedness programs. Known as the "land of a thousand hills," Rwanda is a country situated in Africa. It is divided into 30 districts. An Excel spreadsheet data and district boundaries can be easily overlaid on a map to expose connections and show at-risk populated areas. Moreso, it allows the users to create routes for effective distribution of medical and health supplies. 
Local health agencies rely on a map of districts to plan for and mitigate complex health risks. Through heat mapping, health agencies are able to develop a deeper understanding of risks and their impact to one area. Thus, it empowers these agencies to anticipate and plan in advance for their next action. Furthermore, the map can be shared in seconds. This builds strong communication and response collaboration when health emergencies occur.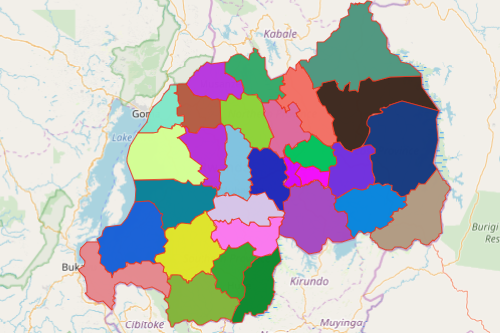 Create a Rwanda District Map Fast!
The impact of health emergencies in communities spread like a thunderbolt. To effectively plan to reduce health risks and respond to emergencies, it is highly important to create a map fast. It's a good thing that Mapline lets you create a map with all Rwanda districts in as fast as under a minute:
Create a Mapline account and login.

Click the orange "Add New Items" button.

Select "New Map" on the drop down arrow.

Give your map a name and click "OK."

Click the "Add" button from the left sidebar.

Select the "Territories" option.

Click "From Mapline's Repository."

From the "Territories" select "

Rwanda Districts

." Use the search bar for quicker results.

Select how you want your boundaries to be colored in "Fill Color" (Random Colors, Uniform Color, Dynamic heat map colors, or Custom colors from spreadsheet).

Click "OK."
Sign up now and reap the benefits of using more powerful mapping tools for health management operations. Learn how to use the tools to fully understand the situation thereby responding to health crises accordingly.