Data-Driven Automation – How Does it Work?
Mapping departments of Senegal is one of the initial steps that the government health service agency took to monitor and control the spread of Covid-19. Senegal is a West African country divided into 45 departments. By mapping the Excel spreadsheet of the population within department boundaries, the local government units are able to create plans and act fast to disseminate information to control the viral spread. To understand the full potential of your data, one great tool to use is Mapline's Automate. How does it work?
Mapline's Automate can help augment your data with the information you currently don't have when mapping Senegal departments. It automatically assigns tasks to the nearest and most available person for the job. As in the case of Senegal's health responsiveness, tasks such as contact tracing can be assigned to field investigators by department boundary. You can also choose to add a 2nd or a 3rd option for the task. The same scheduling of assigned persons can be used for health workers and first responders where and when they are most needed. Another awesome thing about the Automate is that it allows you to build schedules. It lets you create reports that identify recurring events. In this way, you can build your schedules for patient visitation, hospital liaison meetings, field investigation schedules, and others.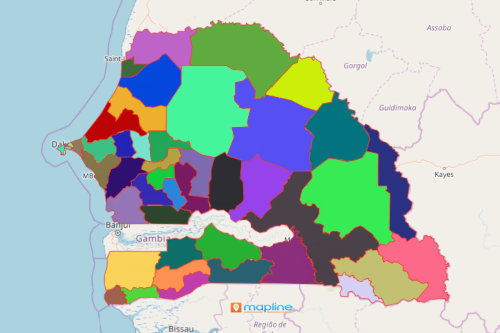 Enjoy Limitless Automation 
To experience the full advantage of Mapline's Automate, first, you need to plot your Excel spreadsheet data on a department map of Senegal. Don't worry! Creating a territory map is so simple it only takes a few seconds:
Create a Mapline account and login.

Click the orange "Add New Items" button.

Select "New Map" on the drop down arrow.

Give your map a name and click "OK."

Click the "Add" button from the left sidebar.

Select the "Territories" option.

Click "From Mapline's Repository."

From the "Territories" select "Senegal Departments." Use the search bar for quicker results.

Select how you want your boundaries to be colored in "Fill Color" (Random Colors, Uniform Color, Dynamic heat map colors, or Custom colors from spreadsheet).

Click "OK."
Jump right in to enjoy all the great benefits of Mapline's Automate when mapping departments of Senegal. Sign up now and learn more on how your organization can benefit from using it in your dispatch scheduling, quote generation, supply chain management, and so much more!