District-Level Map as a Powerful Data Visualization
District council offices use a Tanzania district map to plan ahead of time to protect the communities against potential natural calamities. Tanzania is nestled within the eastern part of Africa. Its economy depends largely on agriculture. Since it relies solely in the agriculture sector, the country is prone to fluctuating commodity prices and varying weather conditions. Mapping Excel data on the district boundaries of Tanzania produces a powerful visualization that sparks considerable amount of insights for decision-making. Using the map, the district councils can create plans for risk mitigation.
Through heat mapping, they can identify district areas which may be deeply impacted by threats. Then, they can take considerable actions to inform the public, prepare them for possible threats, and recover assets. Furthermore, it helps in timely responsiveness in times of calamities. Sharing the map to the public equips them with the right knowledge to help brace themselves when calamities strike.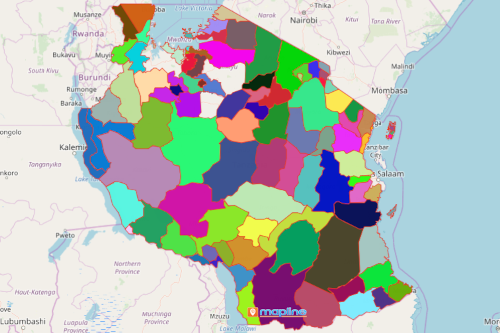 A District Map for Emergency Management 
Create a Tanzania district map today to start your emergency management plans. How? Easy! Follow these simple steps:
Create a Mapline account and login.

Click the orange "Add New Items" button.

Select "New Map" on the drop down arrow.

Give your map a name and click "OK."

Click the "Add" button from the left sidebar.

Select the "Territories" option.

Click "From Mapline's Repository."

From the "Territories" select "

Tanzania Districts

." Use the search bar for quicker results.

Select how you want your boundaries to be colored in "Fill Color" (Random Colors, Uniform Color, Dynamic heat map colors, or Custom colors from spreadsheet).

Click "OK."
Sign up now and use the best mapping tools to inform, respond, and recover in times of crises.