How Mapping Data on a Sub Region Boundaries Helps
A map of Uganda showing sub regions is commonly used by business owners, operators, and managers especially in the coffee production industry. Uganda is a landlocked country located in East Africa. It is divided into 4 regions which are further divided into 15 sub regions and 121 districts. Coffee is a perennial crop in the country. Hence, the coffee economy shows great potential in recent years. To monitor the rapid economic growth and development, an Excel map with sub-region boundaries is used to visualize sales.
Radial heat map is the mapping go-to of business organizations when mapping Uganda sub regions. Location and territory boundaries work hand in hand to produce attractive and onpoint visualization that helps the users monitor their sales performance. Mapline makes it the most efficient and user-friendly so that users can easily dive deep into data analyses. Radial maps color code geographic data to derive insights faster.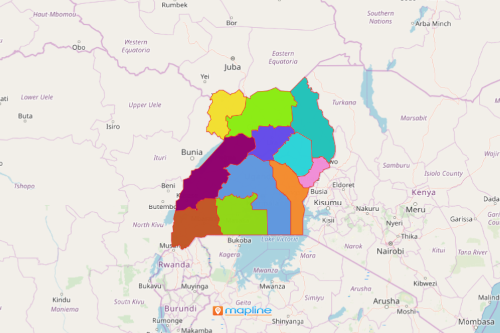 Start Mapping Sub regions of Uganda Now!
Adding territories on a map takes only a few seconds: 
Create a Mapline account and login.

Click the orange "Add New Items" button.

Select "New Map" on the drop down arrow.

Give your map a name and click "OK."

Click the "Add" button from the left sidebar.

Select the "Territories" option.

Click "From Mapline's Repository."

From the "Territories" select "Uganda Sub Regions." Use the search bar for quicker results.

Select how you want your boundaries to be colored in "Fill Color" (Random Colors, Uniform Color, Dynamic heat map colors, or Custom colors from spreadsheet).

Click "OK."
That's how easy it is to create a map of Uganda showing sub regions! Mapline also makes it simple to see summary information about the locations inside each sub-region just by clicking on them! Sign up now and start reaping all the benefits of mapping Uganda sub regions.