Strengthen Economic Strategies Using Province Map of  Zimbabwe
Governors learn that using a  Zimbabwe province map is essential when discovering potential areas for minerals or agricultural resources. Zimbabwe is a landlocked country located in Southern Africa. Zimbabwe is divided into 8 provinces and 2 cities with provincial status. Provinces are further divided into 59 districts and 1,200 wards. The country prides itself in gold and other minerals as their key role in the booming economy. Hence, a map with an overlay of province boundaries really helps create on point economic strategies. 
Excel location data within province borders magnifies significant points for economic development planning. What's more is that the map can be shared instantly! A province map of Zimbabwe can be shared or even embedded on a website to ensure proper collaboration and coordination between department heads.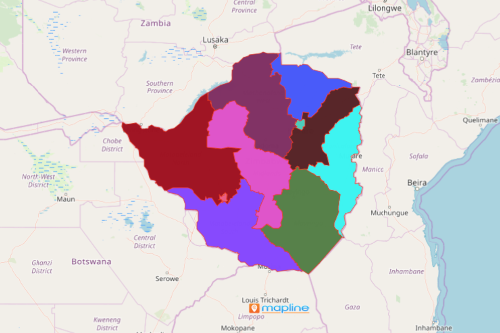 Start Monitoring Your Economic Progress with a Province Map
Create a map of provinces of Zimbabwe today by following these steps:
Create a Mapline account and login.

Click the orange "Add New Items" button.

Select "New Map" on the drop down arrow.

Give your map a name and click "OK."

Click the "Add" button from the left sidebar.

Select the "Territories" option.

Click "From Mapline's Repository."

From the "Territories" select "Zimbabwe Provinces." Use the search bar for quicker results.

Select how you want your boundaries to be colored in "Fill Color" (Random Colors, Uniform Color, Dynamic heat map colors, or Custom colors from spreadsheet).

Click "OK."
That's how easy it is to create a Zimbabwe province map! Mapline also makes it simple to see summary information about the locations inside each province just by clicking on them! Sign up now and let your map tell interesting spatial stories that are relevant for economic growth planning.