Create Intelligent Sales Territory Maps in Minutes
Create sales territories that drive business growth as you map districts of Brunei. Brunei is a small and wealthy country located on the island of Borneo in Southeast Asia. Its economy is based on oil and natural gas. In fact, the country is the 4th largest oil producer in Southeast Asia. As a Sales Territory Mapping Software, Mapline equips many organizations the right tools that increase sales performances and drive business growth. One smart tool is by plotting your Excel data on predefined territories. For example, as you map Brunei districts, you can easily add its 4 districts. Then, customize your territories by assigning each of them a particular shade of color as their assigned territory to work on. 
Step your mapping up a notch by creating heat maps. A heat map is used to expertly visualize sales territories. From their color concentration, you can identify territories which are high performing. This results in focusing efforts on high-priority areas. On the other hand, the powerful visualization brought by the heat map paves the way to identify low performing areas. This is a great opportunity to construct new business strategies on how to penetrate these low-priority areas. Sales territory planning makes more sense when it is based on geographical insights and information.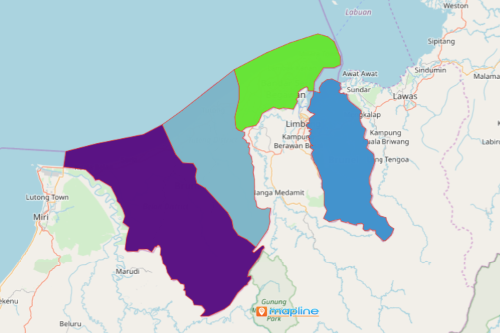 Spend Less Time Mapping Sales Territories 
Easily convert a Brunei district map as a sales territory map in seconds. Carefully follow these steps: 
Create a Mapline account and login.

Click the orange "Add New Items" button.

Select "New Map" on the drop down arrow.

Give your map a name and click "OK."

Click the "Add" button from the left sidebar.

Select the "Territories" option.

Click "From Mapline's Repository."

From the "Territories" select "Brunei Districts." Use the search bar for quicker results.

Select how you want your boundaries to be colored in "Fill Color" (Random Colors, Uniform Color, or Custom Colors From Spreadsheet).

Click "OK."
As you use Mapline to map districts of Brunei, you will dicover that the predefined territories are there for a reason depending on how you use it. Simply turn it into a sales territory map that works to your advantage! Sign up now and learn more powerful tools that can be used when creating a sales territory map that drives business success.