Municipality-Level Mapping Results in a More Focused Data Analysis
Mapping municipalities of Serbia helps organizations to keep track of things that really matter. Serbia is a country where the bordes are caught between Central and Southeast Europe. It is divided into 145 municipalities. Excel data of locations added to a municipality map takes you to a whole new level of understanding your resources and its distribution. It makes a powerful data visualization that allows organizations to collect data and make location analysis more efficient. A municipality-based map helps decision makers to manage assets and resources better. 
Using mapping tools such as heat maps and data segmentation reveal new patterns and trends that are crucial to extract actionable insights. These tools help to customize ways of visualizing and understanding data how you want it. When applied, they give competitive ideas on how you can proactively respond when faced with extreme situations.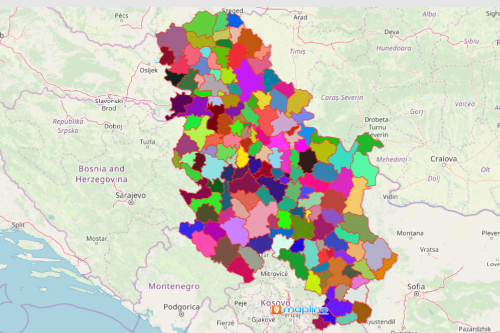 Map Data and Keep Track on Things that Really Matter
Creating municipality based map is so simple it can be done in less than a minute. After which, you can easily share the map or embed it to a website in just a few clicks: 
Create a Mapline account and login.

Click the orange "Add New Items" button.

Select "New Map" on the drop down arrow.

Give your map a name and click "OK."

Click the "Add" button from the left sidebar.

Select the "Territories" option.

Click "From Mapline's Repository."

From the "Territories" select "

Serbia Municipalities

." You can also enter that on the search bar.

Select how you want your boundaries to be colored in "Fill Color" (Random Colors, Uniform Color, Dynamic heat map colors, or Custom colors from spreadsheet).

Click "OK."
Sign up now and find new and easy solutions for your resource management.