Discover Untapped Opportunities in District-Level Mapping
A Turks and Caicos Islands district map oftens serves as a guide for many companies in the tourism industry. Turks and Caicos are twin tropical islands in North America. Tourism is its main economy. A district map uncover untapped patterns. Learn why and how district boundaries are different from each other. You'll get to know what makes one district distinct from another. It allows you to identify the strengths and weaknesses of each district, thereby knowing which areas need more improvement. 
Using smart mapping tools such as the route optimizer tool allows you to create advanced route planning that will help your company identify the shortest route, the shortest travel time, and the shortest travel trip.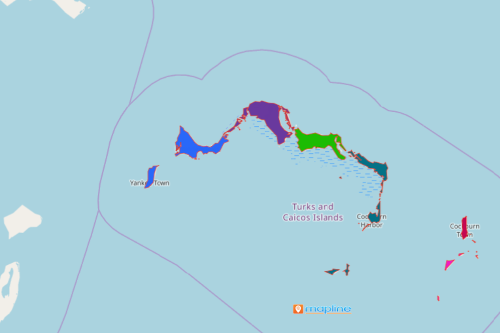 Got a Minute? Create a Turks and Caicos Islands District Map!
When creating a district map, all you need is only a few seconds of your time:
Create a Mapline account and login.

Click the orange "Add New Items" button.

Select "New Map" on the drop down arrow.

Give your map a name and click "OK."

Click the "Add" button from the left sidebar.

Select the "Territories" option.

Click "From Mapline's Repository."

From the "Territories" select "

Turks and Caicos Islands Districts

." You can also enter that on the search bar.

Select how you want your boundaries to be colored in "Fill Color" (Random Colors, Uniform Color, Dynamic heat map colors, or Custom colors from spreadsheet).

Click "OK."
Sign up now for a better approach on district-level mapping. Learn more tools that will help you see a bigger picture of more business growth and opportunities.