How a Voting Precincts in Spokane, Washington Map Spoke Wonders
Casting votes in this year's election is a priority for people in Washington, particularly in Spokane County. In fact, the voters increased in numbers. They have become increasingly discerning as well. What could be a helpful tool to help organize the local election system as well as monitor the activities is to map voting precincts in Spokane, Washington. 
Mapline provides a territory boundary for voting Precincts in Spokane, Washington. With an overlay of this special type of boundary, your map can be a powerful tool to aid in navigating each precinct.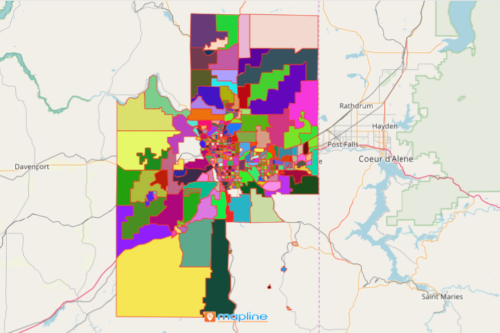 Territory Boundary of Voting Precincts in Spokane, Washington for Deeper Analysis
With the right overlay boundary for mapping, you can clearly define the needs of individual precinct. If you think mapping this may be burdensome, think again while following these easy steps:
Create a Mapline account and login.

Click the orange "Add New Items" button.

Select "New Map" on the drop down arrow.

Give your map a name and click "OK."

Click the "Add" button from the left sidebar.

Select the "Territories" option.

Click "From Mapline's Repository."

From the "Territories" select "U.S. Voting Precincts – WA – Spokane County." You can also enter that on the search bar.

Select how you want your boundaries to be colored in "Fill Color" (Random Colors, Uniform Color, Dynamic heat map colors, or Custom Colors from Spreadsheet).

Click "OK."
Mapline's territory boundary for mapping voting Precincts in Spokane, Washington is the perfect tool for territory management. It can also be used in segmentation to address the specific needs of the voters in a timely manner. When you have that kind of map, indeed, that map can speak wonders! Sign up now to start creating a map for deeper precinct-level analyses.