When Data and Boundaries Join Together Through Mapping 
Mapping Federated States of Micronesia Municipalities is used by entrepreneurs and business owners to grow their businesses. The Federated States of Micronesia is an island country in Oceania. It consists of 4 states which are subdivided into municipalities. When data is looked at on a municipal-level analysis, it produces a very powerful data visualization. From the map, you can easily pinpoint the locations that need more assistance, or those that produces more potential customers. In addition, the relationship between locations and their respective borders ignites timely insights for decision making.
Mapline's mapping technology aims to provide easy-to-use yet powerful mapping tools. When these are used, the amount of time used in data analysis is significantly cut in half! Organizations can be benefitted into using heat maps for more focused data analysis. It is often used in market research, sales strategies, and many more.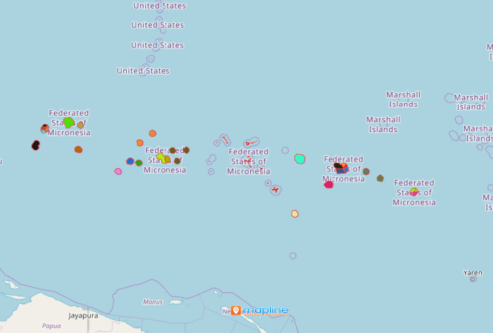 Add Municipal Boundaries and Discover New Opportunities
Begin mapping and discover new opportunities for your business. Follow these steps below and start a municipality-level analysis right away!
Create a Mapline account and login.

Click the orange "Add New Items" button.

Select "New Map" on the drop down arrow.

Give your map a name and click "OK."

Click the "Add" button from the left sidebar.

Select the "Territories" option.

Click "From Mapline's Repository."

From the "Territories" select "Federated States of Micronesia Municipalities." You can also enter that on the search bar.

Select how you want your boundaries to be colored in "Fill Color" (Random Colors, Uniform Color, Dynamic heat map colors, or Custom colors from spreadsheet).

Click "OK."
Sign up now and experience first hand how easy it is to find patterns in your data using powerful mapping tools.