Province-Level Mapping to Understand the Economic Impact of a Crisis
A further understanding and managing crises is made possible by mapping provinces of Papua New Guinea. The country is the world's largest island country. It is comfortably nestled in the Oceania continent. An Excel map of locations with an overlay of province boundaries is instrumental in analyzing the impact of a crisis in the business sector. The pandemic has affected every part of the earth, and Papua New Guinea is no exception. Tourism, farming, and business are important factors in its economy. Hence, mapping the province boundaries gives the users the heads up on what is really happening during the pandemic. In addition, the data visualization provides a clear insight on what leaders should do and how to react to further strengthen the economy.
A heat map proves to be a very practical tool to draw strategic approaches in business continuity. Collecting multiple layers of datasets and segmenting them by demography, location types, and other data characteristics is another great option for a more focused data analysis.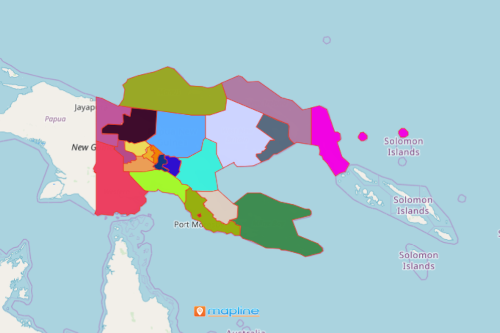 Analyze Economic Impact of Crises for Each Province 
Create a Mapline account and login.

Click the orange "Add New Items" button.

Select "New Map" on the drop down arrow.

Give your map a name and click "OK."

Click the "Add" button from the left sidebar.

Select the "Territories" option.

Click "From Mapline's Repository."

From the "Territories" select "

Papua New Guinea Provinces (2019)

." You can also enter that on the search bar.

Select how you want your boundaries to be colored in "Fill Color" (Random Colors, Uniform Color, Dynamic heat map colors, or Custom colors from spreadsheet).

Click "OK."
Sign up now and discover more powerful mapping tools to help you in crisis management.