Achieve More Focused Planning by Mapping Province Boundaries
Sales teams depend on the Peru province map for a data-driven sales territory planning. It promotes ideas that are crucial to sales strategies. Peru is a country situated in South America. The country is divided into 196 provinces. An overlay of province boundaries on a map helps companies to be familiar with the geographical challenges of each province. More than that, they are able to quickly figure out the big opportunities that lie within each boundary. Sales territory planning is a time consuming and at times expensive process. However, when mapping tools are used, this type of planning can be cost effective.
One tool that is used in sales territory planning is the draw pad. It makes territory assignments for each sales team more effective. The draw pad has the ability to draw a radius map – a personalized territory for each sales team. Each sales team can filter their customer spreadsheet data so they can focus only on the areas assigned to them. Doing so can help them track their sales efforts accordingly. Moreover, they can share their maps with other team members in seconds.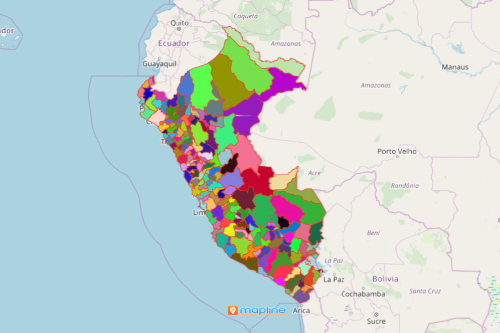 Spend Less Time in Creating a Province-Based Map
Spend less time managing your sales territories. Mapline makes it very quick to create a map with province boundaries. Once generated, you can readily indulge time creating strategic business decisions.
Create a Mapline account and login.

Click the orange "Add New Items" button.

Select "New Map" on the drop down arrow.

Give your map a name and click "OK."

Click the "Add" button from the left sidebar.

Select the "Territories" option.

Click "From Mapline's Repository."

From the "Territories" select "Peru Provinces." You can also enter that on the search bar.

Select how you want your boundaries to be colored in "Fill Color" (Random Colors, Uniform Color, Dynamic heat map colors, or Custom colors from spreadsheet).

Click "OK."
Sign up now and learn more mapping tools that are most effective in monitoring sales performances.