Mapline's Mock Election Platform Helps Students Cast Their Ballots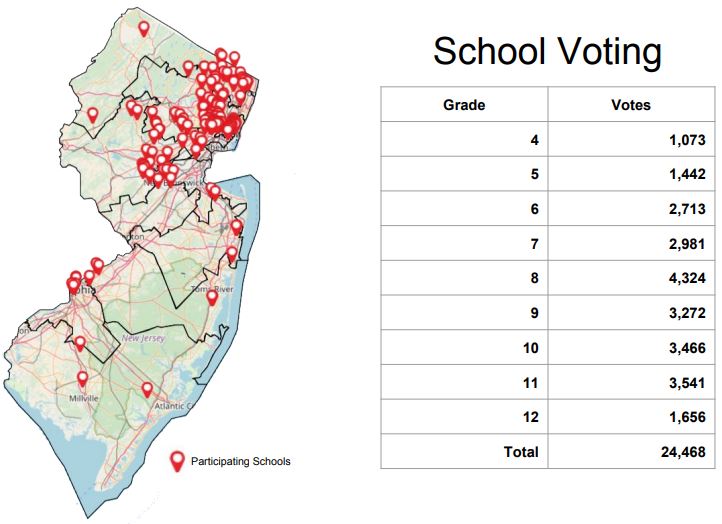 At Mapline, we've collaborated with New Jersey teachers and schools to help students vote in elections and experience the democratic process. Our
interactive mapping software for schools
makes it easy for teachers to register their students' participation and analyze the results once all votes have been counted. For most students, the New Jersey mock election is the first opportunity they'll have to cast a vote.
What Is a Student Mock Election Map?
The New Jersey mock election began in 2016 when teachers wanted a way to help students experience democracy firsthand. This year, students in grades 4–12 from each congressional district cast 25,000 votes in five categories, including:
House of Representatives
Senate
Do you vote by party loyalty or by the issues?
Should the President and Congress be from the same party?
Would the nation benefit from the rise of a strong third party?
What Is Different This Year?
Beginning in 2018, New Jersey educators can now
submit student votes online
using Mapline's redesigned, digital platform. To sign up, teachers simply register their school with a name and email address. Then, Mapline generates unique codes for each student to use when they cast their ballot. Codes signify a student's grade and school, but do not collect personally identifying information. This new method is streamlined, and it gives teachers and students the ability to submit votes right from the classroom, instead of handing ballots off to a district supervisor for bulk submission. Alternately, printable ballots are available for schools that don't use Chromebooks or wish to tally paper ballot totals and submit the totals online.
Building Maps in School and Analyzing the Results
Once all votes have been cast, Mapline generates maps showing which candidate or issue received the most votes. Mapline tallies results by congressional district and by grade. Students from all 12 New Jersey congressional districts voted with 24,468 students casting votes. Approximately 12,533 students were from grades 4–8 while 11,935 students participated from grades 9–12. A total of 63 maps are available as
PDF downloads
showing the results from the 2018 New Jersey mock election, including raw numbers and easy-to-read percentages. Mapline's
territory heat map overlays
provide color-coded maps by candidate, issue, grade level, and location that give educators and students the opportunity to analyze and discuss voting patterns in their home state.
Critical thinking questions
and lesson plan activities are available online for educators to pair with election results.
Learning Civic Responsibility
Mapline stands out from other mock election platforms for its granularity and realistic, inclusive experience. With this year's revamped platform, Mapline has the power and scale to engage thousands of students in New Jersey elections and help educators promote the importance of civic duty.
To learn more about mock elections, check out the official
New Jersey mock election website
. Explore how you can use
mapping software
to make a difference in academia from mock elections to higher education.