Smart Planning Starts on Department-Level Analysis 
The Republic of the Congo map with departments is often used when planning for business growth. The Republic of the Congo, also known as the Congo Republic, or Congo-Brazzaville, is a country located in Central Africa. It is divided into 12 departments which replaced the former administrative division of regions. Planning is the key to be successful in selling. Analyzing department boundaries is an efficient way to plan for managing sales territories, optimizing routes, identifying target market, and more. 
Mapline provides the simplest and the easiest mapping solutions. When mapping Republic of the Congo departments, it is best to use powerful analytical tools to help you optimize your sales territories. Give the best structure for each sales team so each member is aligned upon reaching their goals. Use routing and customer segmentation. Then share the map to team members. This makes monitoring sales performance a lot easier.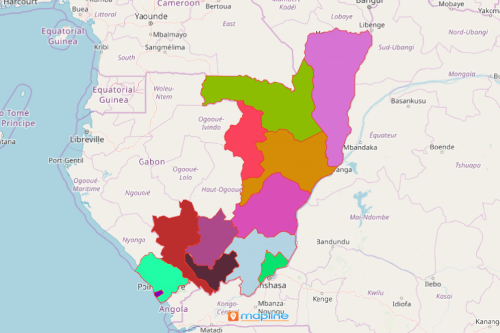 Create Sales Territories in a Snap!
Turn your Republic of the Congo map of departments into a sales territory map. Once generated, you can use different tools to visualize sales performance data per department area and understand local needs and trends to increase sales impact.
Create a Mapline account and login.

Click the orange "Add New Items" button.

Select "New Map" on the drop down arrow.

Give your map a name and click "OK."

Click the "Add" button from the left sidebar.

Select the "Territories" option.

Click "From Mapline's Repository."

From the "Territories" select "Congo-Brazzaville Departments." Use the search bar for quicker results.

Select how you want your boundaries to be colored in "Fill Color" (Random Colors, Uniform Color, Dynamic heat map colors, or Custom colors from spreadsheet).

Click "OK."
That's how easy it is to create a Republic of the Congo map with departments! Once you have your map, you can create a map of Excel spreadsheet locations to overlay on top. Mapline also makes it simple to see summary information about the locations inside each department just by clicking on them. Sign up now!