Use Patterns Shown on Region Boundaries to Create Sustainability Programs
When planning for macroeconomic stability, more often than not, a region map of Djibouti is always taken into consideration. Djibouti is located in the Horn of Africa, a peninsula found in the easternmost projection of the continent. It is divided into 5 regions and 1 city which are further divided into 11 districts. The map of Excel data with an overlay of region boundaries tends to show patterns that reflect the relationship between domestic demands and innovations. 
Organizations that are committed to promote economic growth use different mapping tools for data and location analysis. Your Djibouti region map can be customized to help convey information quickly. You can easily assign territory colors, customize location pins, add labels, or upload your own images. Customizing your map magnifies your data's impact.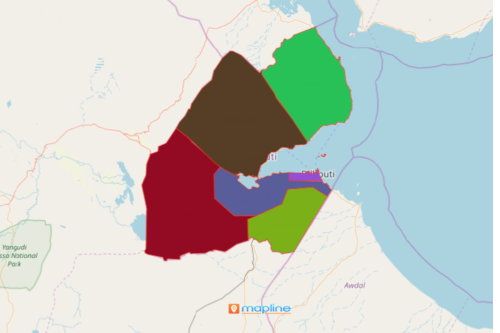 Create a Map Regions of Djibouti in an Instant
Mapline makes it the easiest to create a territory map so you can have a lot more time to delve into deeper analysis. 
Create a Mapline account and login.

Click the orange "Add New Items" button.

Select "New Map" on the drop down arrow.

Give your map a name and click "OK."

Click the "Add" button from the left sidebar.

Select the "Territories" option.

Click "From Mapline's Repository."

From the "Territories" select "Djibouti Regions." Use the search bar for quicker results.

Select how you want your boundaries to be colored in "Fill Color" (Random Colors, Uniform Color, Dynamic heat map colors, or Custom colors from spreadsheet).

Click "OK."
That's how easy it is to create a region map of Djibouti! Mapline also makes it simple to see summary information about the locations inside each region just by clicking on them! Sign up now to integrate mapping tools to plan for macroeconomic stability programs.