Region-Level Mapping for Deeper Data and Location Analysis
A region map of Eritrea has been a primary tool for researchers and analytics alike. Eritrea is a country located in East Africa. The name "Eritrea" is a Greek term for Red Sea which is fittingly so because most parts of the country have an extensive coastline in the Red Sea. Eritrea is divided into 6  regions which are further divided into 58 districts. The regions are: Central, Anseba, Gash-Barka, Southern, Northern Red Sea, and Southern Red Sea. Many researchers who study the country use a territory map such as one with region boundaries to understand the country's health care system, education, religion, human rights, and economy.
Mapline's BI (business intelligence) is the perfect dashboard for everyone who's into research and analytics. The dashboard uses charts and reports for a glimpse of the summary of all their data-driven research. Using an Eritrea region map, you can create reports, vertical bar charts, or pie charts.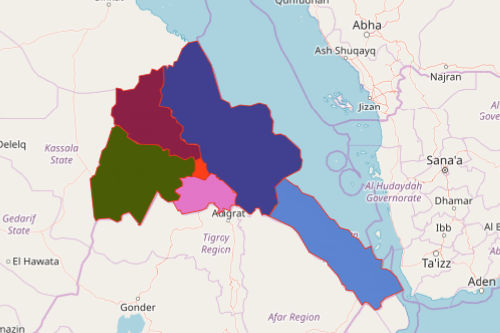 Share and Embed a Regions of Eritrea Map
Creating a territory map takes about a few seconds. But sharing or embedding on a website takes even fewer seconds! So create your map now:
Create a Mapline account and login.

Click the orange "Add New Items" button.

Select "New Map" on the drop down arrow.

Give your map a name and click "OK."

Click the "Add" button from the left sidebar.

Select the "Territories" option.

Click "From Mapline's Repository."

From the "Territories" select "Eritrea Regions." Use the search bar for quicker results.

Select how you want your boundaries to be colored in "Fill Color" (Random Colors, Uniform Color, Dynamic heat map colors, or Custom colors from spreadsheet).

Click "OK."
That's how easy it is to create a region map of Eritrea! Mapline also makes it simple to see summary information about the locations inside each region just by clicking on them. Sign up now and take advantage of using Mapline's BI Charting!