Implement Improvements Across The Organization by District Mapping
Organization leaders and decision-makers found out that a district map of Ethiopia is vital when implementing changes and improvements across their networks. Districts are the 3rd level administrative division in Ethiopia, next to regions and zones. A district is composed of small wards or neighborhood associations. It serves as an electoral district used in local government elections. In Ethiopia, districts are called "kebele" meaning "neighborhood." There are currently 670 rural districts and 100 urban districts in Ethiopia. 
The Mapline Solution Suite is a business platform wherein organizations can centralize their data and share the updated information to everyone on the team. Simply upload your Excel data on an Ethiopian district map. Share the map with team members or to other department heads. Then sit back and watch updates unfold real-time.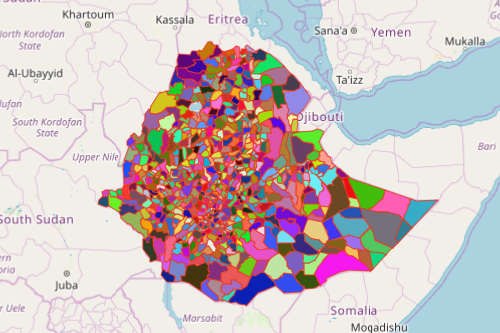 Build a Map and Embed on a Website
Once you created your map, embed your Ethiopia map of districts on your website in just a few clicks! Maps are so powerful that they relay information and connect to the viewers better than spreadsheets and reports.
Create a Mapline account and login.

Click the orange "Add New Items" button.

Select "New Map" on the drop down arrow.

Give your map a name and click "OK."

Click the "Add" button from the left sidebar.

Select the "Territories" option.

Click "From Mapline's Repository."

From the "Territories" select "Ethiopia Districts." Use the search bar for quicker results.

Select how you want your boundaries to be colored in "Fill Color" (Random Colors, Uniform Color, Dynamic heat map colors, or Custom colors from spreadsheet).

Click "OK."
That's how easy it is to create a district map of Ethiopia! Mapline also makes it simple to see summary information about the locations inside each district just by clicking on them! Sign up now and enjoy a hassle-free experience of centralizing your data.