Region-Level Map and the Power of Locations 
A region map of Guinea is exactly what think tanks need as they devote their study to the emerging economy of the country – the hydroelectricity. Guinea is a West African country which is divided into 8 regions and 33 prefectures. Mapping the region boundaries of the country is extremely helpful to organizations so they can understand the energy and environment better in each region. Building a Guinea region map with an overlay of location data helps different sectors to understand development issues and environmental impact of hydroelectric energy. 
The coverage overlay tool creates instant visualization that can easily be understood to identify the locations and territories that lie within a regional coverage. Another advantage of using the coverage overlay tool is that it helps you identify gaps within each radius coverage. In that way, you can create constructive plans for growth opportunities.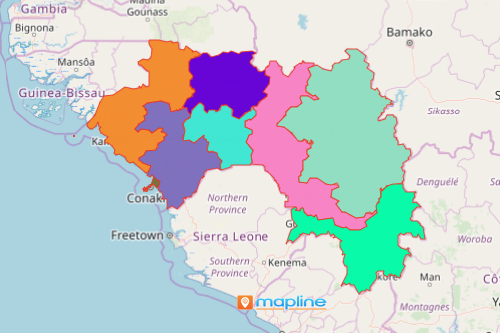 Make a Map of Regions of Guinea 
It only takes a couple of clicks to create a territory map. That way you can spend more time on your strategy and execution! Share the map to your team and be blown away by insights they can contribute just by looking at the patterns of data and locations.  
Create a Mapline account and login.

Click the orange "Add New Items" button.

Select "New Map" on the drop down arrow.

Give your map a name and click "OK."

Click the "Add" button from the left sidebar.

Select the "Territories" option.

Click "From Mapline's Repository."

From the "Territories" select "Guinea Regions." Use the search bar for quicker results.

Select how you want your boundaries to be colored in "Fill Color" (Random Colors, Uniform Color, Dynamic heat map colors, or Custom colors from spreadsheet).

Click "OK."
That's how easy it is to create a region map of Guinea! Mapline also makes it simple to see summary information about the locations inside each region just by clicking on them! Sign up now and start using Mapline Solution Suite as your one-stop platform for all your data and analytical needs.