Follow These Steps When Mapping South Africa Provinces 
You can easily create a map of South Africa provinces using Mapline. The Republic of South Africa is located in the southernmost part of Africa. The country  is newly industrialized having an upper-middle income economy. Its economy is the 2nd largest in the continent and ranks 34th in the world.
Create a Mapline account and login.

Click the orange "Add New Items" button.

Select "New Map" on the drop down arrow.

Give your map a name and click "OK."

Click the "Add" button from the left sidebar.

Select the "Territories" option.

Click "From Mapline's Repository."

From the "Territories" select "South Africa Provinces." Use the search bar for quicker results.

Select how you want your boundaries to be colored in "Fill Color" (Random Colors, Uniform Color, Dynamic heat map colors, or Custom colors from spreadsheet).

Click "OK."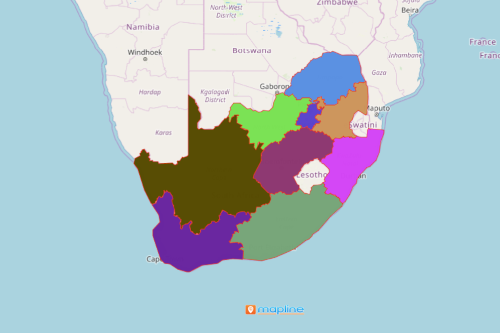 That's how easy it is to create a map of South African provinces. Once you have your map, you can create a map of Excel spreadsheet locations to overlay on top. Then, get summary information about the locations inside each province just by clicking on them. Learn more about our individual, team, API and custom plans to get started today.
Analyzing Your Map of South Africa
Using Mapline, you can easily create a map of South African provinces. South Africa has nine provinces:
Eastern Cape

Free State

Gauteng

KwaZulu-Natal

Limpopo

Mpumalanga

North West

Northern Cape

Western Cape
Explore your business in the real world—not confined within columns and rows on a spreadsheet. With a better view of your data, you can dive deep into demographic trends, customer locations, shipping and delivery routes and much more. Simply overlay Excel data on your map of South Africa to begin uncovering new insights.
Explore Our Mapping Features
Want to know what else you can do beyond creating a South African provinces map? Check out our other features: