Region-Level Mapping to Make Strategic Business Decisions
A Togo region map is used by many organizations from different sectors. It is their go-to when it comes to sales territory mapping analysis. Togo is the smallest country in Africa. It is divided into 5 regions: Centrale, Kara, Maritime, Plateaux and Savanes. The regions are divided into 30 prefectures and 1 commune. An overlay of Excel data on a map of Togo with regions helps speed up data and territory analysis.
By using powerful mapping tools, managing territories can be handled smoothly. Customizing your territories and radial heat maps are some of the location analytic tools to help you spend less time in managing territories and spend more time on making strategic business decisions. It only takes a few seconds to draw custom territories to track sales performances. When you click inside your territory, it will show a report that detailed all the locations within that area. This can be easily exported to an Excel spreadsheet. This feature is exceptional during presentations.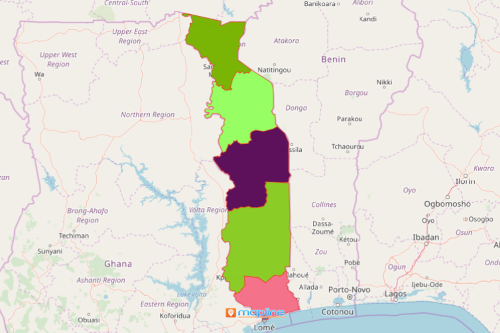 Steps to Create a Togo Map of Regions
Once generated, you can draw custom shapes around territories or generate a report within a boundary so you can easily compare accounts and values.
Create a Mapline account and login.

Click the orange "Add New Items" button.

Select "New Map" on the drop down arrow.

Give your map a name and click "OK."

Click the "Add" button from the left sidebar.

Select the "Territories" option.

Click "From Mapline's Repository."

From the "Territories" select "Togo Regions." Use the search bar for quicker results.

Select how you want your boundaries to be colored in "Fill Color" (Random Colors, Uniform Color, Dynamic heat map colors, or Custom colors from spreadsheet).

Click "OK."
That's how easy it is to create a Togo region map! Mapline also makes it simple to see summary information about the locations inside each region just by clicking on them! Sign up now to speed up your sales territory management.