Find Data-Based Insights From Territory Mapping
A Uganda map of districts is integral in creating programs about safe water and sanitation in Uganda. Uganda is an East African country divided into 121 districts. One of the factors for the country's rapid economic growth and development is having access to clean water. But that was not the case before. For decades, Ugandans suffered from a water crisis which deeply affected their means of living. Thanks to the combined efforts of government and non-government organizations, a lot of initiatives went underway to address the issues.
One way to discuss and analyze the problem is through mapping the population data on district boundaries. To identify district areas that have been severely impacted by water shortage, a heat map is applied. This mapping tool helps to find trends within your data. It ignites ideas based on location density to better understand the factors that contribute to the success or failure of the program implementations.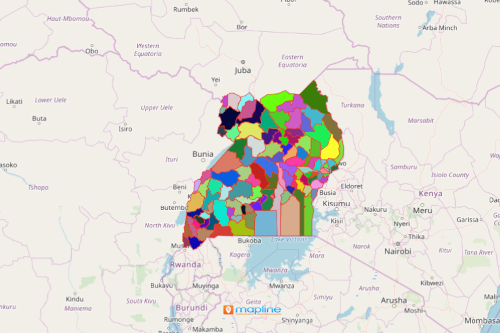 perform analysis at the district LEvel
With Mapline, you can leverage easy-to-use tools that make visual analysis smarter and faster. To create a map of Uganda showing districts, follow these simple steps: 
Create a Mapline account and login.

Click the orange "Add New Items" button.

Select "New Map" on the drop down arrow.

Give your map a name and click "OK."

Click the "Add" button from the left sidebar.

Select the "Territories" option.

Click "From Mapline's Repository."

From the "Territories" select "Uganda Districts." Use the search bar for quicker results.

Select how you want your boundaries to be colored in "Fill Color" (Random Colors, Uniform Color, Dynamic heat map colors, or Custom colors from spreadsheet).

Click "OK."
That's how easy it is to create a map of Uganda districts! Mapline gives you the tools to create a visually appealing Uganda map of districts providing insight into trends and patterns. Find information about our individual, team, API and custom plans to get started today.
Explore Other Mapping Features
Want to know what else you can do with your Uganda map of districts? Check out our other features: