The Essentials of Mapping Kyrgyzstan Districts
When you build a Kyrgyzstan District map, you will start seeing the patterns between each district. Essentially, these patterns help create insightful planning for your organization. The map will show the relation of the data from one district to another. The 7 regions of the country are divided into 44 districts. Make your Excel location data come alive by overlaying a district boundary of Kyrgyzstan. With this mapping tool, you will notice that there are patterns that are crucial to your planning that may not be initially noticeable. 
Mapline gives an impactful visualization of your spreadsheet when added to a territory boundary. In just a few seconds, you will see key identifying factors that are crucial to your planning. Mapline provides hundreds of territory boundaries that are readily available. You may be looking at a certain boundary but fail to see it in other mapping software.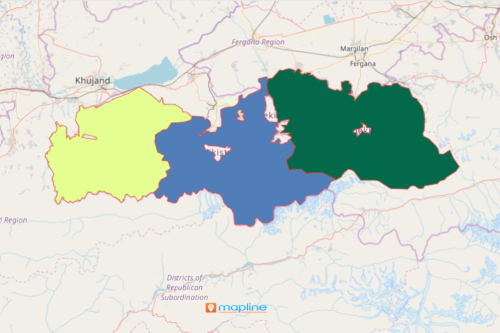 Map Creation Made More Simple
Here are the simple steps to create a Kyrgyzstan District map:
Create a Mapline account and login.

Click the orange "Add New Items" button.

Select "New Map" on the drop down arrow.

Give your map a name and click "OK."

Click the "Add" button from the left sidebar.

Select the "Territories" option.

Click "From Mapline's Repository."

From the "Territories" select "Kyrgyzstan Districts." You can also enter that on the search bar. Currently, we have the Districts available for Batken and Chuy.

Select how you want your boundaries to be colored in "Fill Color" (Random Colors, Uniform Color, Dynamic heat map colors, or Custom colors from spreadsheet).

Click "OK."
Build a Kyrgyzstan Districts map and start comparing and contrasting the district progress of one another. Sign up now to check all available mapping tools that will suit your needs.